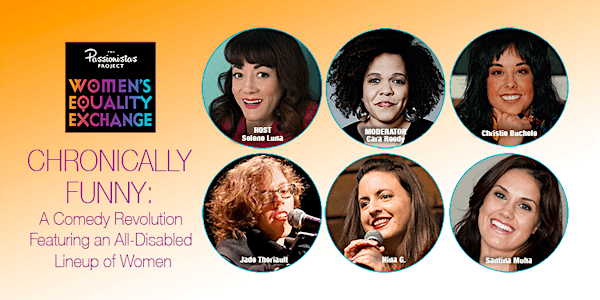 CHRONICALLY FUNNY: A Comedy Revolution With an All-Disabled Lineup of Women
CHRONICALLY FUNNY: A Comedy Revolution Featuring an All-Disabled Lineup of Women
Refund Policy
Contact the organizer to request a refund.
Eventbrite's fee is nonrefundable.
About this event
For the first time in stand-up history, we'll feature a night of all female comedians with disabilities. Come join us for this virtual night of laughs followed by a round table discussion with the performers.
Order your tickets on Eventbrite and we will send you the secret Zoom link the day of the show.
We will provide an ASL interpreter if requested by October 21, 2020.
The standup event is hosted by comic, voice-over artist, host and actor Selene Luna. Selene, fresh off her role as the voice of Tía Rosita in Disney-Pixar's Academy Award & Golden Globe Awards' Winner "COCO," is an established presence in Hollywood with multiple roles in movies and TV shows such as "Celebrity Wife Swap," "Lionsgate's My Bloody Valentine 3D" and Margaret Cho's "The Cho Show," the Mexican-American actress who lives with a physical disability, has also broken ground as a featured burlesque dancer in five national tours of the undisputed "Queen of Burlesque, Dita Von Teese."
Selene will co-host the roundtable with Cara Reedy. Cara is a journalist, an actor, a director and a photographer. Her journey in media has taken several twists and turns. She worked at CNN for ten years, produced docs, did some food writing and, yes, reported on disability. Cara freelanced at NPR on "Weekend All Things Considered." In 2019 she co-produced a short doc for The Guardian "Dwarfism and Me."
Selene and Cara will be joined by:
Christie Buchele — Christie Buchele is an up-and-coming standup comic from Denver, Colorado. Christie has made a name for herself by sharing the heart-wrenching and hilarious realities of being a woman with a disability.
Jade Theriault — Jade Theriault is a cyborg who combines provocative thought with moving furniture. Jade was manufactured in the California Bay and has performed at many showcases including "Tourette's Without Regrets" and "Critical Hit." They perform at The Punchline, Cobbs Comedy Club, Tommy T's and Delirium's weekly show "#triviaLOL."
Nina G — Nina G is a comedian, professional speaker and author of "Stutterer Interrupted." She has been featured in/on everything from NPR's "51%," BBC's "Ouch," Psychology Today, Tedx, multiple daytime talk shows, "Howard (Stern) 100 News" and even the Stuttering John Podcast.
Santina Muha — You may know Santina Muha from her role as Beth on the Netflix comedy "One Day at a Time" or Santina the PA on IFC's "Comedy Bang! Bang!" She can also be seen in the Gus Van Sant film "Don't Worry, He Won't Get Far on Foot" opposite Joaquin Phoenix and in the popular indie film "Greener Grass."
(Lineup subject to change.)
A portion of the proceeds and donations will be made to DESI — Designated Exceptional Services for Independence.
ABOUT DESI
The DESI mission is to teach those with disabilities to live independent lives, so they can be their own person, make their own decisions and experience the joy of doing so. DESI was founded in 2008 to help support families with children and young adults with developmental disabilities. Their goal is to make their clients independent and become active members of their community. These activities could be tasks such as utilizing public transportation, attending post secondary education, acquiring employment, micro-enterprising, building appropriate social skills, learning about financial budgeting and any other areas in which assistance is desired. To learn more about DESI visit www.desiserve.org.
ABOUT THE PASSIONISTAS PROJECT
Sisters Amy and Nancy Harrington have been inspired by the #MeToo movement and #TimesUp campaign and decided to use their skills as celebrity interviewers to work to tell a different kind of story. Where many podcasters reserve their airtime for the elite, Amy and Nancy are talking to amazing women who don't often get a platform to share their stories and who are making a huge difference by choosing unique paths. From the founder of a successful ice cream company to a volcano scientist running for office to an artist who makes sculptures using melted down nuclear weapons, Amy and Nancy shine a light on the positive stories of women on The Passionistas Project Podcast.
They host the annual Passionistas Project Women's Equality Virtual Summit featuring live panels, expert presentations, voter registration and virtual canvassing workshops, storyteller events, a marketplace for women-owned businesses and artisans, a portal to female-centric philanthropic organizations and culminating with the presentation of The Passionistas Persist Humanitarian Award. The 2020 recipient was Bellamy Young of "Scandal." They also produce monthly Equality Exchange events covering a wide variety of social issues that impact women.
Having built a career based on their love of pop culture, Amy and Nancy's positive entertainment content — including interviews, articles and trivia challenges — has been syndicated to Yahoo, OMG!, Examiner, Screenpicks, Belief.net and many more. They have conducted over 1,300 interviews including more than 60 one-on-one oral histories for The Interviews for the Television Academy — including in-depth conversations with actors Julia Louis-Dreyfus, Danny DeVito, Ed O'Neill and Charlotte Rae, former CBS president Nina Tassler and esteemed television directors Beth McCarthy Miller and Pamela Fryman. They were handpicked by OWN to be part of the VIP digital press corps covering Oprah's Lifeclass during Winfrey's tour of the U.S. and Toronto. And through their work as MediaMine's Creative Directors they helped to create the Official Hollywood Walk of Fame App, the Palm Springs Walk of Stars App and a thousand-question Tonight Show Starring Johnny Carson trivia game.