Chris Trapper is back at the 443 on Friday, September 17, 2021.
About this event
CHRIS TRAPPER is a storyteller.
With his soulful, honeyed tenor, sly humor and uncanny knack for melody, Chris has traveled the world over, performing to a dedicated and ever-growing fan base with nothing but his guitar and his songs.
Raised on Prine and Kristofferson, Trapper's first foray in the music industry was as frontman of the critically acclaimed alt-rock band THE PUSH STARS (Capitol Records). On September 21st, 2018, The Push Stars released "3 Feet In The Air", their first album of new material in 14 years. Recorded at the legendary Ardent Studios in Memphis, TN, the record features 12 songs penned by Trapper, who also serves as the band's lead singer and guitarist. As a solo artist for more than a decade, Chris has become a modern-day acoustic troubadour, performing over 150 dates a year as a headliner and sharing the stage with the likes of Colin Hay, Martin Sexton and even John Prine himself.
As a singer/songwriter, Chris is most known for his original song THIS TIME, the #1 selling song on the Grammy-nominated soundtrack for AUGUST RUSH (Robin Williams, Jonathan Rhys Meyers /Warner Bros Pictures). His music can best be described as lyrically driven roots-pop with a knack for telling everyday stories.
The New York Times has called his work "classic pop perfection."
This is a "listening room" style show.
DOORS: 6PM   SHOWTIME: 7PM
IMPORTANT NOTE:
In order for the 443 to operate at full capacity, we are limiting our guests to those who are fully vaccinated for COVID-19. Attendees must show proof at the door upon arrival.
The 443 is an 18+ venue
THE 443 FLOOR PLAN AND TICKETING HAVE CHANGED FOR 2021
We now have 3 options for our ticketed performances:
PREMIUM TABLES
Table for TWO, includes table service (23 available)
PREMIUM SINGLE 
Single barstool at the bar directly across from the stage (5 available)
GENERAL ADMISSION
Our general admission area has a drink rail around the perimeter, 11 high-top cocktail tables, and several bar stools. The tables and stools are first come first served and cannot be reserved. We recommend you arrive when the doors open for the event if you would like a barstool and/or table. Most, if not all, GA ticket holders will be able to secure a barstool, but we cannot guarantee a seat unless you're purchasing a Premium Table or Premium Single. You may have to stand for the show if you are purchasing GA tickets.
Ticket holders from the cancelled 2020 show will be given premium seating.
Chris Trapper - September 17, 2021
$15 General Admission
$20 Premium Single Barstool
$40 Premium Table for Two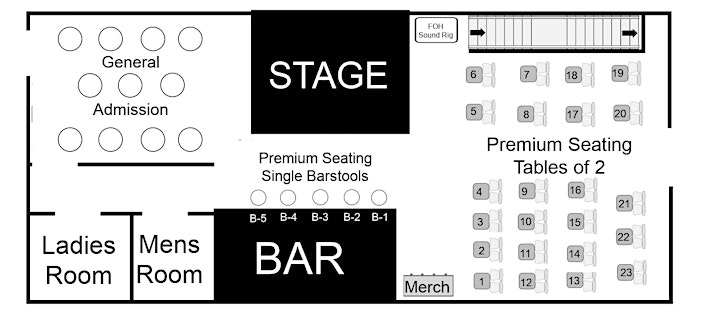 Organizer of Chris Trapper at The 443
The 443 Social Club & Lounge (formerly The Listening Room at 443) is a creative and eclectic gathering place located in the Hawley Green neighborhood in Syracuse, NY. We feature live original music, fun programming, and creative events in a funky and comfortable atmosphere.
Our capacity is 65 to 90 depending on how we set the room.