Event Information
Refund policy
Contact the organizer to request a refund.
Eventbrite's fee is nonrefundable.
Stuart MacDonald and Ricardo Alvarez sit down with Killscreen founder Jamin Warren to discuss the impact of architectural design on gameplay
About this event
Architecture—tangible and virtual—emotionally shapes the environments we occupy. In the real world, architecture that prioritizes its occupants' wellbeing makes a lasting impact on its community. Similarly, architecture in video games plays a crucial role as a character and instigator of story. Both realms highlight the importance of intentional architectural design in the outcomes of people's experiences in those spaces.
Stuart MacDonald (World Design Director, Control) and Ricardo Alvarez (Postdoctoral Researcher, MIT SENSEable City Lab) sit down with Killscreen founder Jamin Warren to discuss the impact of architectural design on gameplay and emotional resonance. They will examine the resonances shared between their fields and reflect on what each realm can learn from the other.
In Urban Play, Fábio Duarte and Ricardo Álvarez argue that the merely functional aspects of technology may undermine its transformative power. Technology is powerful not when it becomes optimally functional, but while it is still playful and open to experimentation. It is through play—in the sense of acting for one's own enjoyment rather than to achieve a goal—that we explore new territories, create new devices and languages, and transform ourselves. Only then can innovative spatial design create resonant spaces that go beyond functionalism to evoke an emotional response in those who use them.
Winner of over 80 awards, Control is a visually stunning third-person action-adventure that will keep you on the edge of your seat. Blending open-ended environments with the signature world-building and storytelling of renowned developer, Remedy Entertainment, Control presents an expansive and intensely gratifying gameplay experience.
This event is part of Killscreen's Theory programming. (See below)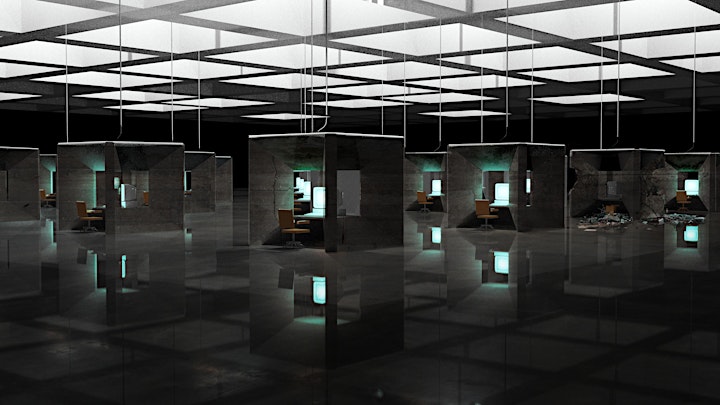 About Your Speakers
With a former career and training in architecture, Stuart Macdonald has 20 years experience in games art and design. Most of that time having been spent in large AAA title development.
Currently he is World Design Director with Remedy Entertainment working on world and new IP creation. For the most recently published title, 2019's award winning Control, he worked on the world design and architecture of its strange, Brutalist-inspired endless interior world. In addition to Control, previous titles at the company include Quantum Break and Alan Wake's American Nightmare.
Prior to Remedy, Stuart was a lead artist at Rockstar North, where he worked on several GTA titles from GTA:San Andreas to early world building on GTA V.
He is passionate about videogame production design, in particular crafting worlds with a distinctive tone and atmosphere.
Dr. Ricardo Alvarez is an academic and researcher whose work focuses on exploring the boundaries of digital technologies used for urban design purposes. He has performed research and teaching work as part of the City Design and Development Group and as a member of the Senseable City Lab, at the Massachusetts Institute of Technology for the past nine years.
Dr. Alvarez has participated in urban innovation research projects that use Mixed Media, IoT, and A.I. in cities as diverse as Dallas, Laval, Cambridge, Amsterdam, Melbourne, Shenzhen, Paris, Medellin, Curitiba, and others. While his work covers a wide range of topics, from autonomous vehicles to urban innovation districts, and smart infrastructure systems, his passion lies in exploring processes that foster social imagination for spatial design, in particular on the collaborative use of VR and AR platforms for new urban systems and public spaces design. He considers himself a life-long gamer and is a strong proponent of cross-pollination between disciplines that create interactive spaces both in the physical and virtual realms, such as architecture, urban planning, video games, and synthetic simulations development.
What to Expect
Killscreen divides its events into two categories Theory and Method. Theory courses are lectures, talks, and other one-to-many events. Method events are workshops, immersive, and other smaller hands-on programming.
Once you're registered you can access this experience through your confirmation email or Eventbrite account. Killscreen online experiences are recommended for attendees age 13+.
This online experience will be recorded. A temporary link to the recording will be provided in a follow-up email to all ticket holders within 72 hours after the event. Access to this recording will be available for seven days.
Killscreen is an arts and culture organization committed to advancing the dialogue and practice of games and play. Founded in 2010, we seek to drive the intersection of games, play, and culture through cross-disciplinary collaboration to show the world why play matters. We want to break down the barriers that have traditionally segregated play and games from other creative disciplines and highlight creators with ambassadorial relationships to the world around us.
We encourage you to follow and share the hashtag #KSonline for more incredible online experiences. And check out other material on Killscreen.com, including honest and thought-provoking interviews with some of the best creators at the intersection of play and culture.
Date and time
Location
Refund policy
Contact the organizer to request a refund.
Eventbrite's fee is nonrefundable.
Organizer of Choreographing Stories through Physical and Digital Architecture