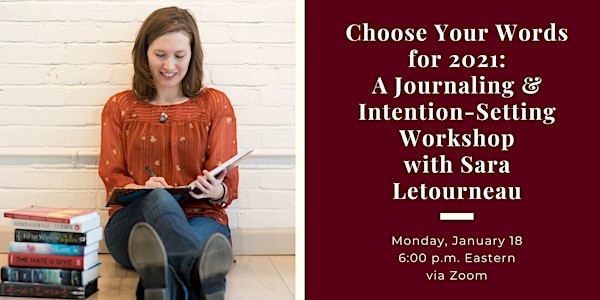 Choose Your Words for 2021: A Journaling & Intention-Setting Workshop
A guided journaling session to set intentions, create affirmations, and put your hopes and dreams for the year ahead into words.
About this event
Looking for a fun and creative way to help you identify how you want to show up this year? Then join editor, writing coach, and poet Sara Letourneau for this guided journaling and intention-setting workshop!
Instead of making New Year's resolutions, you'll use the intrinsic powers of writing and intuition to create affirmations for the qualities you want to practice, define your goals and dreams for the year ahead, and choose the words that align best with those hopes. You'll also learn what a "word vision" board is (think the literary version of vision boards), why it's important to write down your intentions, and how this act of writing can help you manifest those intentions and hopes in magical ways.
Throughout the workshop, you'll have the opportunity to share your affirmations, intentions, etc. and to support other writers in a safe, encouraging, and nurturing online space.
Plan to bring your favorite notebook or journal and a pen. OPTIONAL: You may also bring a sketch pad and pens or markers of different colors.
All writers are welcome! Whether you are new to writing or have been doing it all your life, a novelist or poet, a writer of fiction or nonfiction, or an avid journaller with little creative writing experience, this workshop is for you if you believe it will help you set the right tone for the new year. Writers of all genders, colors, creeds, and sexual orientations are also welcome to this event.
This event will be hosted online using Zoom. (You don't need to have a Zoom account to attend.) Make sure you have access to a computer, tablet, or mobile device with a webcam as well as email and an internet connection to register and attend. If you prefer, you can listen to the class on your phone. You'll receive information on how to attend the workshop within 6 to 12 hours before it begins.
About the Instructor
Sara Letourneau is a poet and the managing editor and writing coach at Heart of the Story Editorial & Coaching Services. She specializes in speculative fiction, literary fiction, YA fiction, memoir, and prescriptive nonfiction; and through her wide range of services, she helps writers tell compelling and well-crafted stories, finish (or get started on) their projects, and develop greater trust in their creativity so they can achieve their writing and publishing goals. Her poetry has been published or will soon appear in Constellations, Mass Poetry's Poem of the Moment, Boston Small Press and Poetry Scene, Soul-Lit, Amethyst Review, Golden Walkman Review, The Aurorean, and The Bookends Review, among others. She is currently working on her first full-length poetry collection. You can learn more about working with Sara at https://heartofthestoryeditorial.com/ and read more of her poetry at https://saraletourneauwriter.com/.