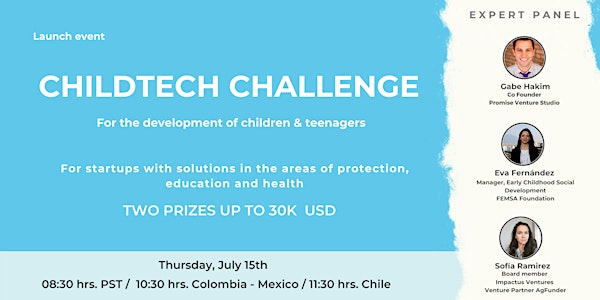 ChildTech Challenge - Launch Event
Launch event for the "ChildTech Challenge", a competition that will award two prizes of up to 30K to implement a high social impact project
About this event
During the discussion, experts in the social, innovation and technology ecosystem will talk about tech & childhood development: USA & LatAm
We will also launch the call for the "ChildTech Challenge", a competition that will award two prizes of up to 30K to implement a high social impact project in Chile. We are looking for innovative startups with proven solutions in the areas of health, education and protection.
Prize 1 – Protection and mental health for children and adolescents, up to 30K usd
Prize 2 – Education for early childhood, up to 25K usd
This event is organized by Impactus Ventures in alliance with Fundación Para la Confianza, Fundación FEMSA, Amalfi Sociedad de Inversiones, IBD Lab and +Global by Fundación Mustakis.