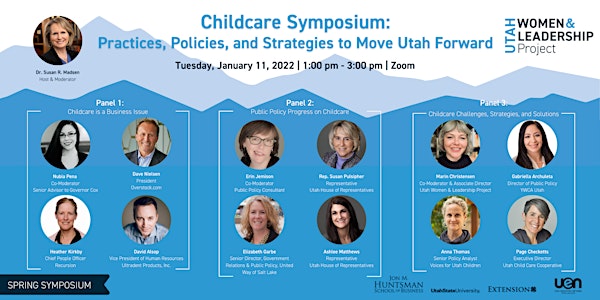 Childcare Symposium: Practices, Policies, & Strategies to Move Utah Forward
The UWLP invites you to join us for a special multi-dimensional symposium focused on childcare in the state of Utah.
About this event
Utah families and a growing number of employers often name access to high-quality, affordable childcare as a key barrier to prosperity in our state, especially for low- and moderate-income families. The questions then become: How can we increase childcare access and affordability in Utah so our families and workplaces can thrive? Why is this topic becoming more and more important for employers today? What childcare resources can employers provide to their workers? What public policies can help families and employers in Utah regarding childcare? What are policy challenges and opportunities? What are general challenges, strategies, and solutions for Utah families regarding childcare? Overall, this two-hour online symposium will focus on practices, policies, and strategies that can move Utah forward.
Sponsors: Jon M. Huntsman School of Business and Extension at Utah State University & Utah Education Network (UEN)
Panelists
PANEL 1 - Childcare is a Business Issue
Nubia Peña is the Director for the Utah Division of Multicultural Affairs where their mission is to promote an inclusive climate for Utah's growing diverse community through training, outreach, and youth leadership development. She is a national training consultant dedicated to bringing awareness to intersections of trauma and the school-to-prison pipeline. She received her Juris Doctorate from the University of Utah in May 2016, and she was one of 25 law students in the nation recognized for her social justice activism. Director Peña received the National Juvenile Justice Network 2019 Emerging Leader Award and is certified by the National Juvenile Defender Center as a Juvenile Training Immersion Program facilitator.
Dave Nielsen is Overstock's President, leading the company's marketing, algorithms, customer, digital, technology, sourcing, and operations organizations. Prior to this role, Nielsen served as Overstock's Chief Sourcing and Operations Officer as well as co-President, overseeing the company's marketing, merchandising, and supply chain operations. Outside of Overstock, he served as CEO for Global Access, he held several leadership positions with Payless ShoeSource, Inc., eventually rising to the role of vice president of merchandise allocation; and he served as president and CEO of Old Town Imports, LLC. Nielsen received his bachelor's degree in Business Management with an emphasis in Marketing from Brigham Young University.
David Alsop is the Vice President of Human Resources and People Strategy Head for Ultradent Products, Inc. He works in the broader community to advance the human experience as the founder DisruptHR Salt Lake City and JumpSpark, LLC. Alsop has over 18 years of experience leading people and culture strategies in human resources at Kraft Foods, Nabisco, and Oscar Mayer. He is known for enhancing business outcomes through his ability to establish modern human capital outcomes and his for his skill in coaching high-performing leaders. David holds an MBA from the University of Arkansas and a Bachelor of Science degree in Marriage, Family, and Human Development from Brigham Young University.
Heather Kirkby has served as Recursion's Chief People Officer since May 2019. She joined Recursion after 15 years at Intuit, and has a background in mechanical engineering, product management, and talent development. Kirkby has a degree in Mechanical Engineering from Queen's University and an MBA from Harvard University. She began her career running field operations in Arctic Alaska. From 2014 to 2016, she served as Director of Product Management at Intuit, where she led the global product organization for QuickBooks Online Accountant, going on to become Intuit's Global Vice President of Talent Development. Her accolades include Intuit's CEO Leadership Award and Women Tech Council Award finalist.
PANEL 2 - Public Policy Progress on Childcare
Erin Jemison is an independent consultant focused on supporting nonprofit, government, and community organizations through policy analysis and development, legislative education and advocacy, program design and implementation, and special project facilitation. She brings over 20 years of experience as a collaborative leader, practitioner, and policy analyst in domestic and sexual violence issues, criminal and juvenile justice reform, and economic opportunity for women and families. Jemison served as Director of Public Policy at YWCA Utah and as Executive Director of the Colorado Coalition Against Sexual Assault. She holds a BA in Sociology from William Smith College and an MPA from Montana State University.
Elizabeth Garbe has led the development and implementation of public policy agendas and lobbying strategies for nearly two decades. A passionate advocate for children and families in Utah, Elizabeth has worked to pass critical legislation in the areas of education, health, and financial stability, with a strong focus on early childhood education. She currently works as the Senior Director of Government Relations and Public Policy at United Way of Salt Lake. Garbe received her master's degree in Social Work from the University of Denver. In her free time, she enjoys skiing, hiking, and rafting with her husband and three stepchildren.
Rep. Susan Pulsipher is a member of the Utah House of Representatives, representing District 50. She assumed office in 2017, and her current term ends on January 1, 2023. Before she took office in January 2017, Pulsipher resigned from her position on the Jordan School District Board of Education. Currently, serves on several community committees and local nonprofits including, but not limited to, the Utah Board of Juvenile Justice, the Utah State Opioid Task Force, and as a board member for Resilient Utah. She earned her BS in Elementary Education from Brigham Young University in 1970 and her M.Ed. in Educational Leadership with an emphasis in policy from Brigham Young University.
Rep. Ashlee Matthews has been a member of the Utah House of Representatives since January 1, 2021; she represents District 38. As a candidate for office, her platform included support for working-class families, affordable daycare, better public transportation, livable wages, and congressional term limits. Matthews has worked in the construction department of the Utah Department of Transportation since 2011. Outside of the office, she is active in the community and volunteers as a mentor with Big Brothers Big Sisters Utah, as a founding board member and Director of Events for The Single Parent Project, and as a foster with the Utah Animal Advocacy.
PANEL 3 - Childcare Challenges, Strategies, and Solutions
Marin Christensen is the Associate Director for the Utah Women & Leadership Project where she focuses on research, strategy, and events that impact and empower women. Marin came to us from the Kem C. Gardner Policy Institute at the University of Utah where she conducted survey and qualitative research for various community partners, including women-focused projects. She is also the co-founder of Utah Child Care Cooperative (UC3), which helps increase access to quality, affordable childcare so women have the choice to stay and thrive in their careers. Marin is pursuing a PhD in Human Development and Social Policy at the University of Utah, where she is studying barriers facing working women.
Gabriella Archuleta (she/her/Ella) is a long-time advocate for justice and equality for marginalized communities, including survivors of violence and human trafficking. In her Public Policy Director role at YWCA Utah, she seeks equitable policies in Utah that are critical to the wellbeing of women and girls. She believes health and safety, empowerment, economic advancement, and racial and gender equity are key issues for all who want to act for change. Archuleta holds a joint degree in Law and Master of Public Policy as well as a Bachelor of Speech Communication and Spanish from the University of Utah.
Page Checketts is a trained nurse who had to leave her career to be a full-time caretaker due to unaffordable and inaccessible childcare and is watching the same scenario happen to her own children. Page believes that everyone who wants to work should be able to do so without compromising the wellbeing of their family. For this reason, she co-founded Utah Child Care Cooperative (UC3). UC3 seeks innovative solutions for increasing access to affordable, quality childcare in Utah. Page is a mother of nine and has a dual master's degree in Public Health & Public Policy from the University of Utah.
Anna Thomas has been working professionally in nonprofits and the public sector for more than 20 years. She is a Senior Policy Analyst with Voices for Utah Children, working on issues related to early childhood care and education, as well as juvenile justice reform. Anna previously worked with the ACLU of Utah for ten years, fulfilling various fundraising, communications, and policy roles. She chairs the Utah Board of Juvenile Justice and represents UBJJ on the Commission on Criminal and Juvenile Justice, and she is a member of the Advisory Board of First Star/Impact Scholars. Thomas has an undergraduate degree in Journalism from the University of Denver, and an MPA from the University of Utah.