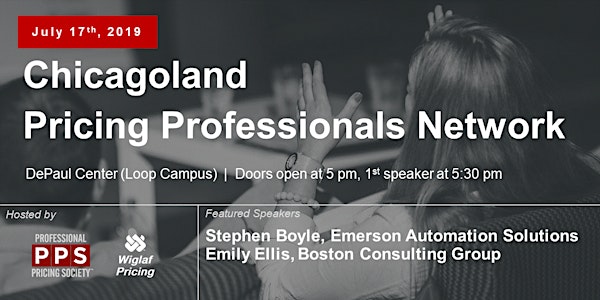 Chicagoland Pricing Professionals Network, July 2019 - Featuring Stephen Boyle of Emerson Automation Solutions
When and where
Location
DePaul Center 1 East Jackson Blvd The North Café (11th floor) Chicago, IL 60604
Description
Join the Chicagoland Pricing Professionals Network for conversation and refreshments! This is a great opportunity to help you learn from pricing experts and your peers about the latest in pricing and how things are done in other organizations. Here's what you can expect:
60 minute talk from Stephen Boyle, Director of Pricing at Emerson Automation Solutions

30 minute talk from Emily Ellis, Head of Pricing at Boston Consulting Group

90 minutes of networking and refreshments with Chicagoland Pricing Professionals
You will meet pricing professionals, pricing recruiters, pricing consultants, and pricing software providers, as well as peers in sales, marketing, finance, and more.
All are welcome!
Featured Speakers
Stephen Boyle
Director of Pricing, Emerson Automation Solutions
Stephen Boyle has worked for the past eleven years in Pricing at Emerson's Appleton Group business unit. During this time, he has led the Pricing department from a U.S.-focused operation handling four brands to a global organization responsible for nine brands ranging from consumer goods to multi-million-dollar highly-engineered electrical apparatus for hazardous and industrial locations. Stephen earned a B.A. in Communication Arts from Trinity Christian College in Palos Heights, IL and lives in the Southwest Suburbs with his wife, two sons and two dogs. When he isn't staring at Excel spreadsheets, Stephen enjoys playing bass guitar, listening to his vinyl record collection and playing board games with his family.
At CPPN, Stephen will share a quick introduction of Emerson and his specific business unit, then cover various functions that his team performs along with the history of process improvements that his team has made and the role of Pricing as a Change Agent within an organization.
Emily Ellis
Head of Pricing, Boston Consulting Group
Emily Ellis is the Head of Pricing for Boston Consulting Group's digital product business. Emily manages pricing for a portfolio of over 150 software and data products. Prior to BCG, Emily was an entrepreneur who successfully built and sold a B2B analytics product within four years. Emily holds a Master's degree in Finance from Harvard and a Bachelor's degree from Indiana University's Kelley School of Business.
Sponsors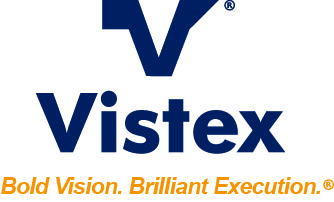 Manage your Go-To-Market® programs for pricing, incentives, rebates, and claims for unprecedented visibility into program performance that helps drive revenue, control cost, minimize leakage, and streamline processes.

Wiglaf Pricing is a boutique consultancy for your organization's pricing strategy. Executives seek out Wiglaf Pricing to make core pricing decisions in the face of uncertainty. We deliver results that matter. Wiglaf Pricing is Helping Executives Manage Price Better.™
The Professional Pricing Society's mission is to nurture a growing community of pricing professionals committed to disseminating pricing expertise throughout the business world. We do this by providing a multi-platform forum through which exceptionally talented and creative experts can exchange cutting edge pricing strategies, tactics and technology. In short, we connect great ideas with great people.