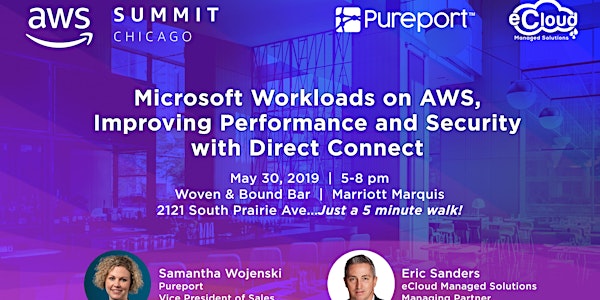 Chicago AWS Summit - Adopting the Public Cloud and Connectivity Options
Location
Marriott Marquis Chicago
2121 South Prairie Avenue
Woven & Bound Bar
Chicago, IL 60616
Description
Join eCloud Managed Solutions and Pureport for a happy hour event with food and drinks! We will discuss Microsoft Workloads on AWS, Healthcare on AWS, funding options available to reduce costs in AWS and connectivity options to connect to the public cloud securely in minutes.
About Pureport:
Pureport is revolutionizing the way organizations connect to the cloud. Led by seasoned entrepreneurs and an experienced technical team familiar with the burdens of cloud migration, Pureport leveraged this solid foundation to create a self-service model for on-demand cloud connectivity. Pureport's intuitive, self-service console allows organizations to privately interconnect sites and cloud providers, in minutes, without the need for any physical infrastructure.
About eCloud Managed Solutions:
eCloud is a minority owned, vendor agnostic hybrid cloud solutions integrator. We help our clients take advantage of the public cloud, help them maximize funding programs by the public cloud providers, perform assessments, migrations, cloud buildouts, manage services and infrastructure builds and options.