Description
Welcome! In coordination with the Chicagoland IIBA, we are very excited to host the first professional development day in the area specifically geared toward business analysts. This will be a fantastic opportunity for you to expand your skills set, learn about the latest industry trends, and network with your colleagues. You will also be eligible to claim up to eight CDUs and PDUs for attending. We are happy to be able to bring this inaugural, value-packed event to Chicagoland.
The theme of the Chicago Business Analysis Development Day (ChiBADD) is Business Analysis in Transformation. Four tracks are available over the course of the day: BA Trends, Professional Skills, Agile and Practitioner. The BA role has become more prominent, and the ever changing requirements and opinions of what a business analyst is has importance in the success of major projects. Enterprises depend on business analysts to propel products and projects while connecting team members. This event focuses on the future of the business analyst role, while giving educational advancement as well.
Location
Loyola University Chicago Water Tower Campus
Agenda
There are four tracks with a total of eight breakout workshop sessions and two keynotes. These topics are meant to fulfill a spectrum of interests.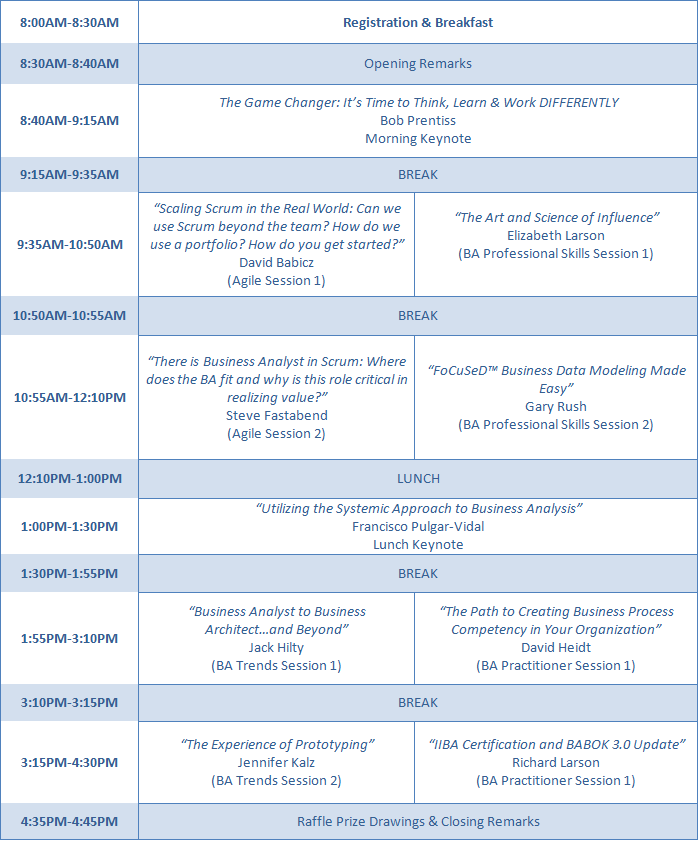 The Game Changer:
The future of business analysis requires people that are Game Changers to lead their projects, teams, and practices into a new era of technology, hybrid business models, and advanced collaboration. Game Changers anticipate what is coming and they work hard today so that they are prepared for tomorrow. Hey Game Changer, do you know what you need to do today to get ready for the future of business analysis? Don't be caught in the past and get ready for a game-changing event that you will not soon forget because you are about to Think, Learn & Work DIFFERENTLY!
Scaling Scrum in the Real World:
Understand how to break down a vision into major epics and features and plan them out using a roadmap and release plan. In an Agile project, iterations and product increments are used to deliver value early and often. Learn how to use this strategy to elicit constant feedback and deliver a better product to your customers.
The Art and Science of Influence:
This presentation explains what influencing is, why it's needed, and which parts require art and which science. You will be introduced to the Influencing Formula and the three steps needed to effectively influence without authority.
There is BA in Scrum:
You will explore the scrum roles and discuss how the BA contributes to team success in a very special way. You will leave with a deeper understanding of this role in scrum as well as a number of techniques that you can use during scrum events. You will also discuss tips on how a BA's work support the scrum artifacts.
FoCuSeD:
This interactive session is geared to enabling business analysts to understand the importance and use of Data Modeling in gathering business requirements. It is a brief summary of the book, FoCuSeD™ Business Data Modeling Made Easy.
Utilizing the Systemic Approach to Business Analysis:
You will learn how to make Business Analysis the practice of enabling POSITIVE change by defining needs SYSTEMICALLY, and recommending INTEGRATED solutions that deliver LONG-TERM value to stakeholders, by using four key strategies derived from Deming-Lean-Six Sigma thinking: 1) Gain a strategic view of organizations, 2) Elicit with respect, 3) Understand performance measures, and 4) Define sustainable designs with agility.
BA to Business Architect....and Beyond:
Many Business Analysts have worked on cross-functional projects and may be ready to apply their core business and analysis skills at a wider enterprise level. A Business Architect essentially provides a "global view" of the organization and works to ensure that the concerns and interests of all areas across the organization work in concert to achieve enterprise-wide goals. Organizations are recognizing this need and creating positions for individuals who have proficiencies in multiple areas. Are you interested in advancing your career in this direction? Come hear what experts predict you will need to know to succeed.
The Path to Creating Business Process Competency in Your Organization:
How can the BA introduce a business process approach into the organization? The presenter will walk attendees through a pragmatic approach that delivers value while creating a sustainable business process competency.
IIBA Certification and the BABOK 3.0 Update:
This presentation provides a concise summary of the different certifications, an overview of the application process, and tips for passing whatever exam is appropriate for you. Find out which certification is right for you and learn what are the important things to study based on it.
The Experience of Prototyping:
Explaining a solution that meets the need for an organization and for its stakeholders can be tricky; factor in explaining how the solution provides value or fits in the context of system and it can be downright challenging. This presentation will cover utilizing a specific technique including how to incorporate this little thing called User Experience.
THANK YOU TO OUR SPONSORS!

Chicagoland IIBA Chapter
Quantum Associates
NueVista Group
Experis
Notes:
No refunds will be given within 7 business days of the event. Substitutions are welcome.
Registration closes Tuesday, October 10, 2017, at 12pm EST.