Description
Please join Ponce City Market in welcoming Chef Hugh Acheson as we celebrate his latest cookbook, The Chef and the Slow Cooker. The Top Chef judge and restauranteur behind Empire State South, Five & Ten, The National, The Florence,and our Spiller Park will sign copies inside Atlanta Gallery Collective located on Ponce City Market's 2nd floor.
Your ticket includes...
- A meet and greet with Chef Hugh Acheson
- A signed copy of Chef's new cookbook The Chef and The Slow Cooker
- A print from photographer Erik Tanner's James Beard portrait series
- A Spiller Park Coffee gift card and enamel pin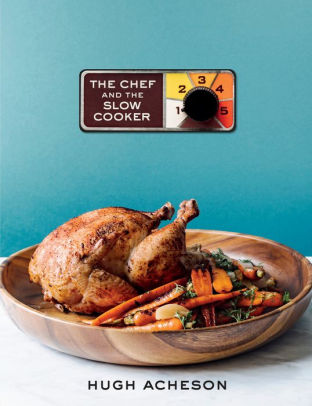 About THE CHEF AND THE SLOW COOKER
In The Chef and the Slow Cooker, Hugh brings a chef's mind to the slow cooker, with 100 recipes showing readers how an appliance generally relegated to convenience cooking can open up many culinary doors. He shows how your trusty slow cooker can still surprise you—you can use it to poach fish, to steam-roast a chicken or leg of lamb, to make intense stocks and broths, and of course to braise the most tender short ribs. It's an approachable, fun, comforting collection of recipes, spiked with global influences and elevated by smart cooking. Using flavor profiles, combinations, and techniques never before seen in a slow cooker cookbook, The Chef and the Slow Cooker proves that even though slow cookers are an old-school technology, they will guide you to better meals in this contemporary world. All while giving you the ability to walk away and live your life while dinner is cooking.

HUGH ACHESON is a chef and food writer who lives in Athens, GA. He is the chef/owner/partner of the Athens, Georgia, restaurants 5&10 and The National, the Atlanta restaurants Empire State South, First & Third Hot Dog & Sausage Stand, Achie's, and Atlanta coffee shop Spiller Park Coffee. His cookbook, A NEW TURN in the SOUTH won the award for Best Cookbook in the field of "American Cooking" by the James Beard Foundation in 2012. His second cookbook is PICK a PICKLE, and his third, THE BROAD FORK, was released in the spring of 2015. His fourth book, THE CHEF & THE SLOW COOKER, was released in the fall of 2017. Food & Wine Magazine named him Best New Chef way back in 2002 and the James Beard Foundation awarded him Best Chef Southeast in 2012. Hugh competed in Bravo's Top Chef Masters, Season 3 and starred as a judge on Top Chef, Seasons 9, 10, 11, 12, and 13. His thoughts about Canada, college football, crappy television, current events, politics, and old Far Side comics can be found on Twitter and on Instagram @hughacheson.