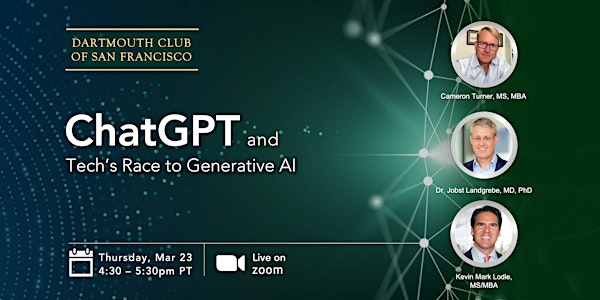 ChatGPT and Tech's Race to Generative AI
ChatGPT has generated awe, controversy, and Tech's newest battlefield. Join us to cut through the hype and explore its potential impact.
By Dartmouth Clubs of the Bay Area
Date and time
Starts on Thursday, March 23 · 4:30pm PDT
About this event
ChatGPT is the most recent artificial intelligence technology to go completely viral. It would be hard to find anyone who hasn't heard about or directly experimented with the platform and expressed awe, concern, or a combination of both. It has the potential to impact commerce, the arts and sciences, and life as we know it. But is this AI truly "generative," or does it succeed best at generating hype and controversy?
Developed by OpenAI, ChatGPT is what's known as a Large Language Model or LLM. The popular claim is that LLMs will master the domain of language including text generation and dialogue generation. If so, their disruptive potential would be substantial and far-reaching.
Presently, they have already created a new, high-stakes competition amid Tech's biggest players. In January, Microsoft announced its $10 billion investment in ChatGPT which it will use to re-invent search underdog, Bing. A week later, Google, which developed the earliest foundation for this technology in 2017, directly entered the race with its release of Bard. The gauntlet has officially been thrown down. Some even expect Meta to enter the fray with a new version of its previously shuttered LLM, Galactica.
But aside from the imminent battle of the titans, the race gets even more interesting when we consider the dozens of other LLM use cases that are being touted in almost every sector.
In this virtual event, we'll address a few key questions:
Which claims are unfeasible and why?
What are the most salient real-world findings and use-case implementations?
And in what cases would an LLM-based solution generate more value than what existing digital tools and systems can deliver?
The event will start with a presentation. The majority of time is open for Q&A between attendees and our featured speakers.*
Register to join the Dartmouth alumni community for a lively and timely conversation!
*Cameron Turner is a data scientist and entrepreneur with expertise in applied AI including the areas of machine learning, computer vision, and natural language processing. He founded and led Clickstream Technologies through its acquisition by Microsoft as well as Datorium, an AI-as-a-service (AIaaS) platform, through its acquisition by UK-based Kin+Carta where he now serves as VP of Data Science. Turner holds a BA from Dartmouth, an MBA from Oxford, and an MS in Statistics from Stanford.
Dr. Jobst Landgrebe, MD, PhD is a scientist, physician and entrepreneur with a background in neuroscience, mathematics, and philosophy. He is an expert in the theory and application of AI and AI enterprise system operations, advising leading organizations and institutions including Novartis, Roche, Medgate, Siemens Healthineers, Charité Berlin, Allianz, BMW, and Royal Philips Electronics, among others. Landgrebe is also co-author of Why Machines Will Never Rule the World: Artificial Intelligence without Fear (Routledge 2023). He holds an MD and PHD in Medicine, Philosophy, Biochemistry, and Mathematics from the University of Göttingen.
Kevin Mark Lodie is a management consultant and strategist who advises on venture growth and service innovation in several sectors including finance, healthcare, media, real estate, and others. Recently, he was part of a team spearheading Yale Smilow Cancer Hospital's first hospital-at-home platform in partnership with Medically Home. He holds a BA from Yale in Humanities and an interdisciplinary MS/MBA jointly conferred by Dartmouth's Tuck School of Business and Geisel School of Medicine.