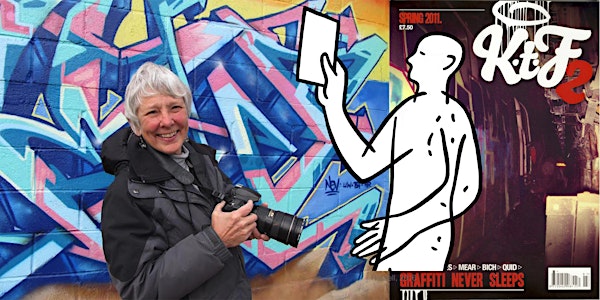 CHASING VISUAL PLAY
When and where
Location
Central Saint Martins LVMH lecture theatre, 1 Granary Square King's Cross N1C 4AA United Kingdom
Description
You are invited to a public talk about pursuits of graffiti and visual play, to be hosted at Central Saint Martins between the Graffiti Dialogues Network, University of the Arts London and StolenSpace gallery.
Featuring
Martha Cooper - world-renowned photographer talking about her work.
Yogain Chandarana - criminal defence barrister specialized in graffiti/street art and media.
Tom Oswald - artist, filmmaker and ex-graffiti bomber.
Come to hear and debate with Martha and guests about their views on the place of play and visual practices among our shared urban places.
Following the talk there will be a late-launch and reception of the "Graffiti & Street Art Dilemmas in London" exhibition, designed by Marcus Willcocks and artist Steve Russell, which is on display at Central Saint Martins Window Galleries until 19th February 2016. The research and production of this exhibition has been supported by the Graffolution project, the GLA and the Extending Empathy project.
—
About the speakers
Martha Cooper has shot around the globe since the 1970's, from the USA to Asia and further afield, in pursuit of capturing urban play through photographic images. She has worked with newspapers and magazines such as 'New York Post' and 'National Geographic'and also independently, making contributions into her personal archive. Her 1984 publication 'Subway Art' is still hailed as one of the visual bibles of graffiti and urban creativity cultures internationally.
In 2015 Yogain Chandarana successfully defended graffitist Marcus Barnes, as the first person chased and taken through the criminal justice system for "encouraging the commission of criminal damage" for his 'Keep The Faith' magazine on 'hardcore' train graffiti.
Tom Oswald has a career of several decades pursuing and being pursued for his ludic quests to paint graffiti among transport networks and is currently directing the first ever feature documentary about the history of graffiti on the London Underground.