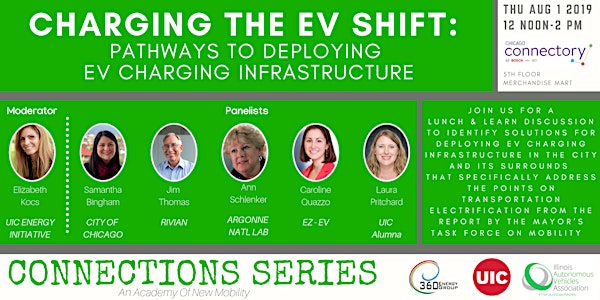 Charging the EV Shift: Pathways to Deploying EV Charging Infrastructure
Join us for a Lunch and Learn discussion to identify solutions for deploying EV Charging Infrastructure in the Chicagoland Area.
When and where
Location
Chicago Connectory 222 West Merchandise Mart Plaza #570 Chicago, IL 60654
Refund Policy
Contact the organizer to request a refund.
About this event
Panelists Include:
Samantha Bingham
As the Clean Transportation Program Director for the City of Chicago's Department of Transportation, Samantha is responsible for developing and implementing policies, programs and projects that reduce emissions from the transportation sector and assist in achieving the City's sustainability goals. During her 12 year tenure at the City, Sam has leveraged over $70 million in local and federal grant funding for clean vehicle incentive programs in the Chicago region, including the deployment of electric vehicle charging stations and medium- and heavy-duty hybrid and electric trucks and buses. Samantha also serves as the U.S. Department of Energy Clean Cities coordinator for the local Chicago Area Clean Cities coalitions whose goal is to reduce petroleum in the transportation sector primarily through education and technical assistance. Samantha leads the coalition's current effect to promote EV education to the public, local car dealerships and employers to provide EV charging for employees.
Ann Schlenker
Ms. Ann Schlenker is the Director for the Center for Transportation Research at Argonne National Laboratory. Ms. Schlenker's applied research area is actively seeking to improve efficiency at a component, vehicle and transportation system level, while preserving transportation consumer choice, affordability and domestic economic growth. Her responsibilities include evaluating the energy and environmental impacts of advanced technologies and new transportation fuels. Her portfolio includes early stage fundamental and applied Light and Heavy Duty vehicle research with an emphasis on low carbon solutions. She directs the transportation system energy modelling for Smart Communities with enhanced mobility offerings. In addition, Ms. Schlenker has responsibility for the DOE Student Vehicle Competitions for advanced powertrain technologies and connected and automated vehicles. Her research is informed by collaborative partnerships which ensure relevance and impact. Schlenker spent more than 30 years with Chrysler Engineering in Product Development, serving in a variety of executive positions
Caroline Quazzo
Caroline Quazzo runs Customer Success & Operations at EZ-EV. Prior to joining the team, Caroline worked across the energy industry in roles from Data Analytics to Operations and Customer Success. She has experience at Gridpoint, Google X, and most recently at Bidgely, where she successfully delivered customer-facing SaaS solutions to utilities and other large customers. Originally from Chicago, Caroline is passionate about advancing the electrification of the transportation industry. She has a BA and MBA from Harvard University.
Jim Thomas
As VP of Corporate Development at Rivian, Jim Thomas is responsible for corporate development activities, including government relations and developing relationships in key industries. His experience includes over 30 years in technology growth companies as an operations and finance executive. Jim thrives on the implementation of disruptive technologies in the formation of new business models.
Laura Pritchard
Laura is a results driven leader, with a track record of leading high performing teams to consistently deliver improved results. Laura completed her MBA at UIC in 2016, and is highly engaged in sustainability and converting others to the Electric Vehicle lifestyle.
Moderated By:
Dr. Elizabeth Kocs
As Director for Partnerships and Strategy, Dr. Elizabeth Kócs provides strategic leadership for UIC's Energy Initiative (EI) expanding its reach and influence by supporting collaborative research and education, spearheading innovative solutions through extensive partnership building and stakeholder engagement, and driving the EI brand and visibility as a thought leader with a focusing on energy storage for grid and transportation and electrification of transportation, and providing unique insights on policies and planning for cities. She serves several complimentary roles within the university including Technology Commercialization Fellow and Adjunct Faculty, as well as co-founder and executive leader for the Center for Urban Resilience and Environmental Sustainability. She is also currently a 2019 NREL Energy Executive Leader.