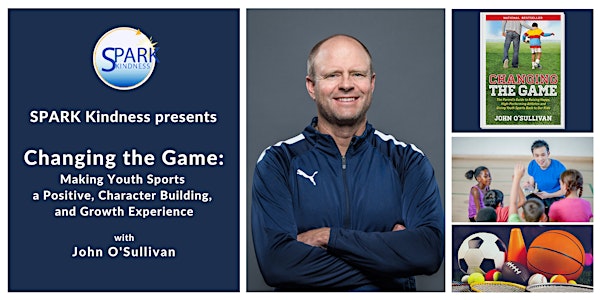 Changing the Game with John O'Sullivan
SPARK Kindness presents a free webinar: Changing the Game with John O'Sullivan
About this event
For youth sport coaches at all levels of play, parents and caregivers of active kids. Young people involved in youth sports and teen athletes are also welcome to attend.
John O'Sullivan, internationally known bestselling author, speaker and podcast host, will offer strategies to promote a positive and character-building sports experience for young people. Youth sports should be focused on learning sport-specific skills, as well as helping kids get the most out of their sports experience, all while growing as a person, learning life lessons, and having fun.
Registrants are invited to also sign up for a special Post-Program Discussion with John O'Sullivan - here
Space is limited, so sign up now if you would like to join John O'Sullivan and fellow youth sport coaches/sports leaders immediately after the program to go deeper into some of the topics and content presented in "Changing the Game". Bring your questions and ideas for this interactive discussion.
About Our Presenter
John O'Sullivan is an internationally known TEDxSpeaker and the founder of the Changing the Game Project, which he started in 2012.
Author of two #1 Bestselling books Changing the Game and Every Moment Matters and leading youth sports blogger
Host of the Way of Champions Podcast, one of the top-rated podcasts in the world for coaches
Former collegiate and professional soccer player, and has coached for over 20 years on the youth, high school and college level.
He has consulted with US Olympic Committee, US Soccer, USA Football, US Lacrosse, USA Swimming, Ireland Rugby, Aussie Rules Football and many more!
National Advisory Board for the Positive Coaching Alliance and the National Association for Physical Literacy.