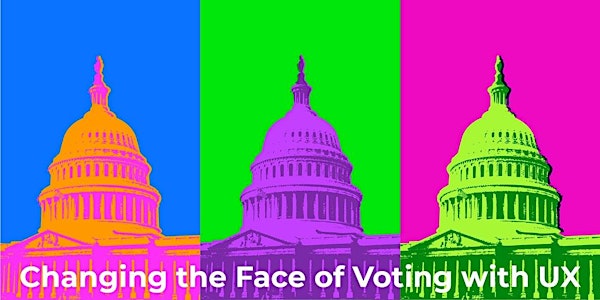 Changing the Face of Voting with UX
Join us for a conversation with Kathryn Summers about making voting inclusive and accessible through design.
About this event
Design has the ability to include or exclude people. Join us for a conversation with Kathryn Summers about making voting inclusive and accessible through design. We will be discussing the implication of bad design and its implication on the voting process in the wake of the 2016 election and the coming 2020 election.
In addition, Kathryn will be showing us the benefits of using eye-tracking machine and how it helps to analyze the visual behavior of your user.
What is eye-tracking?
Eye-tracking is the process of observing and recording eye behavior.
Benefits of Eye Tracking:
Reveals subconscious behavior – researchers can get insight into behaviors we carry out instinctively.
It provides unbiased, objective, and quantifiable data - it removes the need to try and remember or explain where you looked and prevents study participants assuming details and giving incorrect information.
Allows for natural behavior – eye trackers are unobtrusive and allow tasks to be carried out as normal.
It is versatile and mobile – it can be used in almost any environment and setting.
It provides a high level of detail – depending on the device and software, the results can offer a very high level of granularity for deep analysis.
Offers real-time information – with live streaming you can see the person's gaze immediately.
It is explanatory – it can depict processes and actions that are hard to articulate or explain.
Offers a visual representation - AOI's, heat maps' and 'gaze plots' show the eye-tracking results and how people have interacted with an environment or responded to a stimulus.
(Our eye tracking benefits list was pulled from https://www.tobiipro.com/blog/what-is-eye-tracking/)
Kathryn Summers' current work focuses on making voting activities more usable and accessible through inclusive design for people who use assistive technology and people who do not read well. She has also spent nearly two decades focusing on making medical and other information easier to find, navigate and read on the Web for people with lower literacy skills. Finding and understanding medical information and information about government services can have a huge impact on people's health and happiness, yet often those who are most at risk are poorly served by current approaches to Web design.
Summers has also done qualitative observational research supported by eye tracking measurements on how to make online forms, such as registration and medical assessment tools, easier to use for people with lower literacy skills.
Earlier work included collaborating with UB professors on a three-year grant from the National Science Foundation to develop an intergenerational design team with faculty, graduate students and children. The School of Information Arts and Technologies KidsTeam, in collaboration with a team at the University of Maryland's Human Computer Interaction Lab, helped design interfaces for the International Children's Digital Library.
Summers directs the doctoral program in user experience research at the University of Baltimore, and she also directs the School of Information Arts and Technologies' User Research Lab. The Lab supports research activities for faculty, students and local businesses.
Accessibility
If you need any accommodations to fully access the event, please get in touch with us by October 1, 2020 at: lwdbaltimore@gmail.com.
*Events are online on zoom.us. A Zoom link will be sent to your registration email two days before the event. A reminder with the link will also be sent on the day of the event.
Ladies*, Wine** & Design is a global non-profit initiative with chapters in 280 cities worldwide. LW&D was started by Jessica Walsh after she realized that sometimes peers can be competitive or unsupportive of one another. Only a small percentage of creative directors are women or non-binary, and LW&D wants to help change this through mentorship circles, portfolio reviews, talks & creative meetups.
*Our space is inclusive of all women, non-binary, agender and gender non-conforming people. Self-definition is at the sole discretion of that individual. If you feel you could benefit from a space meant for people who do not identify as cis men to share ideas and collaborate, you are welcome. **Alcohol is entirely optional; you can drink tea, coffee or whatever you like!