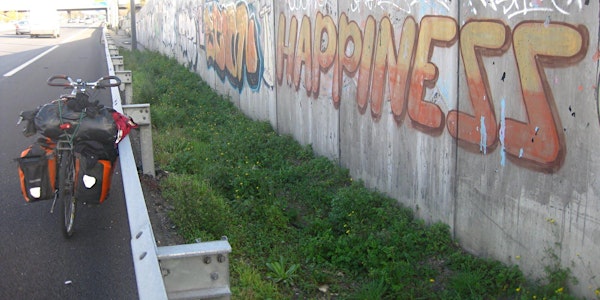 Changing Gears: A Talk with Julian Sayarer
When and where
Location
Gallatin School of Individualized Studies 1 Washington Pl Fl 5, Student Lounge New York, NY 10003
Description
Changing Gears:
Changing Gears is a 20 minute short film, showing the journey of 5 young Londoners as they cycle from London to Brighton. Having never met before, and each from different backgrounds and life stories, the film is a look at the transformative potential of the bicycle in bringing people together and breaking down barriers. On show is an insight into the sense of freedom and independence young people gain from a bicycle in a city, the worries and problems they face growing up there, and how they react to new geographies outside London.
Life Cycles : World Politics by Bicycle
Julian Sayarer is a round-the-world cyclist. While working as a cycle courier in London, he learns that the world record for a circumnavigation has been broken in conjunction with banks and big business. Seeing the bicycle and open road reduced to only a corporate marketing strategy, he resolves to do things his own way and to take back the record.
He did it in 169 days, through 20 countries, covering 18,049 miles, at an average 110 miles a day. The achievement earned him a world record, but the book that tells the story – Life Cycles – isn't a story of records, and even the bicycle is kept as little more than the very special vehicle that powered this journey.
Hear a story that runs from the streets of London, through insurrections in China to the trailer families of Louisiana. A snapshot of world politics by bicycle, Life Cycles is a 12mph view of the world at the beginning of the twenty-first century. It's a look at where we are, and sometimes, at how things could be different.
Praise for Life Cycles
"Life Cycles is On the Road for the Occupy generation."
openDemocracy
"Sayarer's love of the open road and his ability to evoke the beauty of travelling by bike are a potent combination. A wonderful, vivid account of a record-breaking, 18,000-mile adventure.'
Cycling Active