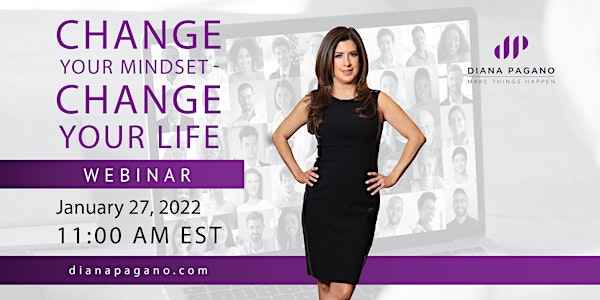 Change Your Mindset, Change Your Life
Make Things Happen: Change Your Mindset – Change Your Life Webinar!
About this event
With 2022 just starting, are you asking yourself:
How can I be more successful? How can I have more courage to pursue my dreams?
How can I leave fear behind and jump head on into the adventure my future holds?
How can I escape the shackles of what's holding me back?
Let me ask you this- ARE YOU LIVING A LIFE OF LIMITATIONS OR POSSIBILITIES?
It is OK not to know the answer! More times than not people do not realize the things that are holding them back. That is why I am here to help you find out.
JOIN ME LIVE to explore the possibilities in front of you, while leaving behind what doesn't grow you!
If you are:
Struggling to get to that next level in your personal life or career- To stop feeling stuck and feel empowered to grow, liberated of what is holding you back and investing in yourself.
Ready to unlock your highest potential- To get that amazing job, to get that amazing relationship, to earn that coveted degree...whatever it is, you CAN do it.
Ready to stop worrying and start living- To build your existence on growth mindset while limiting the garbage that takes space in your mind and holds you back.
THEN THIS EVENT IS FOR YOU!
Tune in to discover:
• The impact of having a Fixed vs Growth mindset on your life today
• How to activate a new mindset
• Techniques for embracing challenges
You have the greatest gift that our Creator has given each and every one of us - the gift of change, the power to control what we feed our mind. You get one life to go for what you want and impact those around you. I am here to help you reveal that gift!
I put together Change Your Mindset, Change Your Life live event for YOU!
I want to show you that YOU CAN live intentional life.
I want to show you that YOU CAN cultivate the mindset that grows you and can chance from the fixed mindset that holds you back.
JOIN ME LIVE TO CHANGE YOUR MINDSET WITH MY HELP AND CHANGE YOUR LIFE!
To make this even more tailored and specific to your needs, I will also have LIVE open questions segment, where you can ask what worries you, what you have always wanted to ask and to share your excitement with me.
BONUS: Receive my FREE e-Book "Change Your Mindset, Change Your Life"
Don't take my word for you, see what others have to say about my trainings and events:
TESTIMONIALS:
"I would recommend Diana's event because I think a lot of people will find out what's holding them back from going forward and being successful." - Michael
"She made me get excited about a goal and I just feel like I've gotten a lot more out of Diana's event than I have out of any programs." - Dawn
"The thing that Diana's event helped me with was creating very specific goals and then visualizing." - Jesse
"With Diana's event I feel more in charge of myself and my emotions in my mind, so that when I work with my clients".
"I would recommend taking this class, mainly I think it's good for new people and people who've been in the business and science classes for a more of a personal mental gain." - Suzy
"Every class that has heard Diana speak has been uplifted, and energized." - Janet