Description
Generously sponsored by STRATEC Consumables.
Challenges in the Commercialization of Microfluidics
Please join us for our event on May 30th, 6:00 - 9:00 pm at UC San Francisco in Mission Bay!
Transportation
- Parking is available for a small fee in campus garages - the 3rd Street Garage is the closest to Genentech Hall.
- Genentech Hall is approximately a 5-minute walk from the UCSF/Mission Bay Muni stop.
Event program
6:00 - 6:30 pm
Registration, networking and buffet
6:30 pm - 6:45 pm
Introduction
6:45 pm - 8:15 pm
- Keynote speaker 1: Prof. Adam Abate, UCSF
- Keynote speaker 2: Dr. Barney Saunders, CEO, Purigen Biosystems
- Keynote speaker 3: Dr. Phil Spuhler, Lead Sr. Bioengineer, Product Development, Becton Dickinson Genomics
- Discussion with speakers: (Moderator) Dr. Don Arnold, CEO, Veristad
8:15 pm
- Job board / after-event social (If you would like to post a job, please contact us at hello@bayareamicrofluidicsnetwork.org)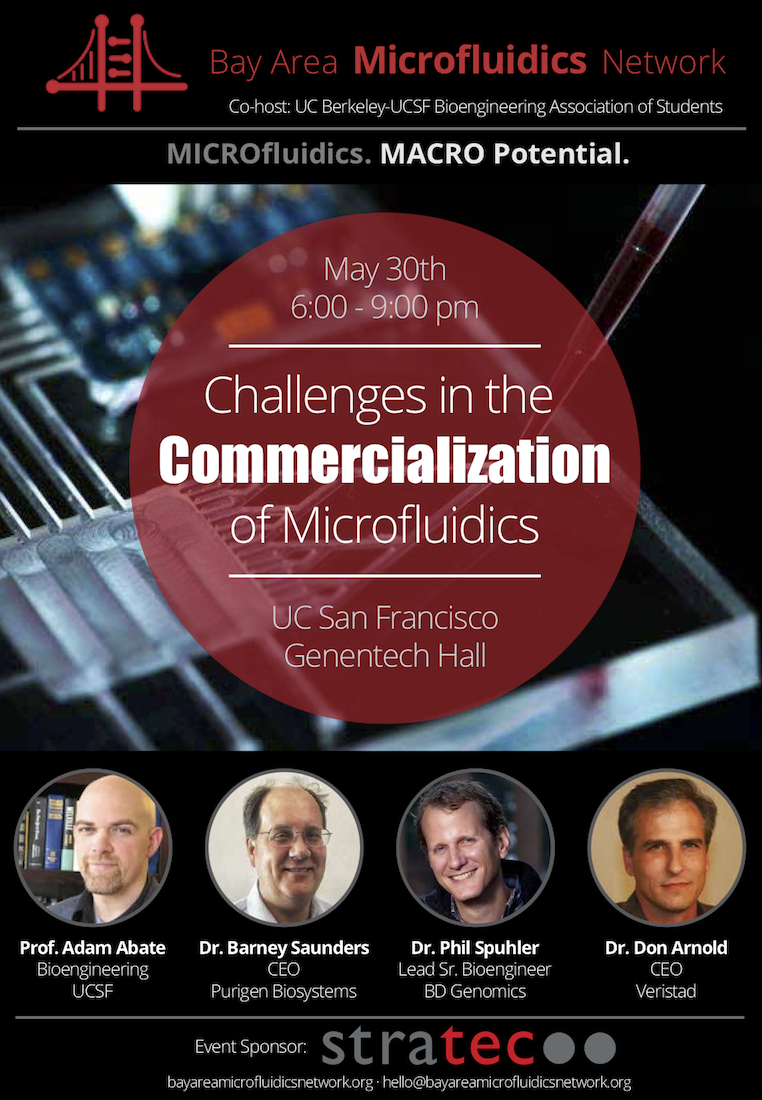 Thanks to our sponsor, STRATEC Consumables, we'll be providing hot food catered by La Mediterranee.

Learn more about Bay Area Microfluidics Network!