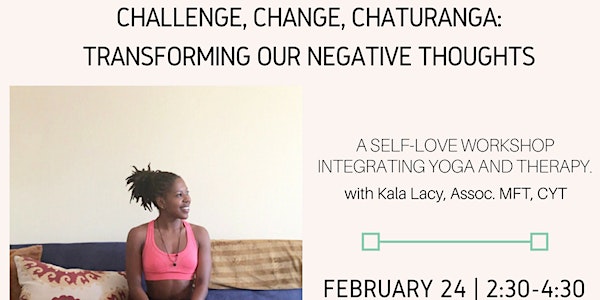 Challenge, Change, Chaturanga: Transforming Our Negative Thoughts
When and where
Location
Green Tree Yoga Meditation Foundation 8227 South Western Avenue Los Angeles, CA 90047
Refund Policy
Contact the organizer to request a refund.
Description
Challenge, Change, Chaturange: Transforming Our Negative Thoughts
"Healing is being situated in love." - Lama Rod Owens
A combination of yoga and therapy, in this workshop participants will use yoga as a medium to explore their negative automatic thoughts. Asana is a window into our thoughts and feelings off of the mat. Challenging sequences and postures, such as the infamous chaturanga, often instigate the not-so-peaceful parts of ourselves. This workshop will allow us to safely and intentionally examine our internal dialogue and replace negative thoughts with more loving and healing alternatives.
---
Kala Lacy
My name is Kala Lacy. I am a community healer, wellness warrior, activist, student, raging water sign, and teacher of holistic health who works within underserved communities across the nation to provide education of physical, emotional, mental, and spiritual wellness. I believe that we each hold the power within ourselves to transform and heal and seek to guide my students back into their truth. I am an associate therapist, certified yoga teacher, and Lead Administrator of BlackGirlYoga, a global community of Black femme yogis. In all spaces, I connect my extensive knowledge of the body, spirit, and mind with a critical analysis of structural violence, considering them inseparable. Since 2015 I have published several articles for popular collectives such as Black Girl in Om and have been a featured guest for various health and wellness spaces nationwide. I consider it my responsibility to provide, fight for, and challenge conceptualizations of care in oppressive spaces. I continue to spread awareness of the importance and complexities of healing at every opportunity, every day. My passion and love for my community pushes me forward and with force. My mission is to help the disenfranchised heal.
Mission:
Similar to water wells found around the world, The Well is a holistic and inclusive resource dedicated to the health and healing of disenfranchised communities. A well holds water, and water provides the nourishment and cleansing necessary for a full life. The Well contains culturally relevant wellness events, tools, and education hosted by activist, yoga teacher, rootworker, and psychotherapist trainee, Kala Lacy. ​ Techniques derived from the east, west, dirty south, the streets, academia, and our ancestors are interwoven to create accessible, conscious, and transformative wellness tools designed to heal the whole person. Healing is resistance. The daily violence experienced by Black and people of color calls for creative and loving intervention to combat the physical disease, mental illness, emotional stress, and spiritual trauma collected individually and across generations. The Well celebrates and honors all expressions of gender, all bodies, and all ages from every walk of life. (The Well ; thewellhealing.com)
IG: benditlikelacy ; FB: KLCommunityHealer