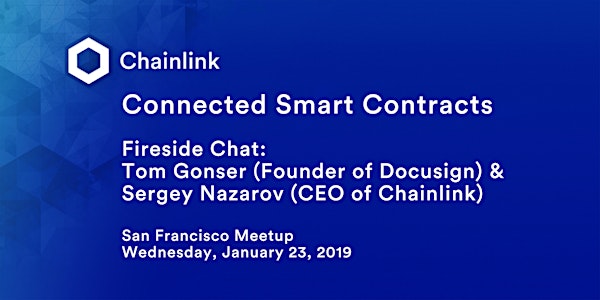 Chainlink Fireside Chat: Tom Gonser (Founder of Docusign) & Sergey Nazarov
When and where
Location
Galvanize - San Francisco 44 Tehama Street San Francisco, CA 94105
Description
Join us for a fireside chat with Sergey Nazarov, CEO of Chainlink along with Tom Gonser, Founder of Docusign . They will be discussing connected smart contracts, oracles, and the advantages of decentralized networks utilizing blockchain technology. With the growing interest in smart contracts, it is important to explore the benefits, challenges, and real-world application of smart contracts. Tom and Sergey's experience in combining emerging technology with the needs of enterprise businesses will give the audience a solid understanding of smart contracts and this evolving field.
Chainlink was recently featured in MIT Technology Review and has been selected by Gartner and other analysts as one of the top blockchain companies to watch.
Agenda
6:30 - Food and Drinks
7pm - Fireside Chat with Sergey and Tom
8pm - Mingling


Chainlink
Chainlink is a decentralized oracle network that enables smart contracts to securely access off-chain data feeds, web APIs, and traditional bank payments. Chainlink is consistently selected as one of the top blockchain technologies by leading independent research firms such as Gartner. It is well known for providing highly secure and reliable oracles to both large enterprises (SWIFT) and leading smart contract development teams (Web3 Foundation, OpenLaw, Zeppelin, MARKET Protocol, Accord, and more). It is chain agnostic and will serve any chain ranging from Ethereum to Hyperledger and more.

Sergey Nazarov
Sergey is the CEO of SmartContract.com and Chainlink. He joined the cryptocurrency revolution in 2011 as a Bitcoin miner, and went on to build some of the first decentralized applications in 2013 (Cryptamail & Secure Asset Exchange). He's currently working on solving the "oracle problem", by providing smart contracts on leading networks with the inputs and outputs they need to effectively interface with external data sources and various other off-chain payment methods.
Docusign
Since inception in 2003, DocuSign has been on a mission to accelerate business and simplify life for companies and people around the world. It spearheaded the development of e-signature technology, and today offers the world's #1 e-signature solution. It serves more than 400,000 customers and hundreds of millions of users to measure to make signing any document easily. During their recent IPO they raised over $629 million and has a valuation of $4 billion.
Tom Gonser is the Founder and former Chief Strategy Officer of DocuSign. Currently, Tom serves as a General Partner at Seven Peaks Ventures and is and an entrepreneurial executive with a strong track record in technology leadership and innovation with more than 15 years' experience participating on boards of directors of fast-growing companies. He began his career in large, successful companies such as Apple Computer, Wildfire Communications, McCaw Cellular, and AT&T Wireless, then launched and ran several companies focused on SaaS, Financial Services, and GPS Technology.