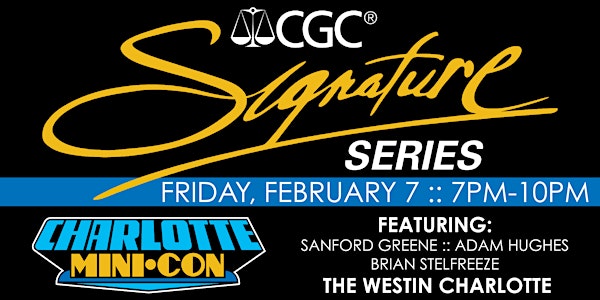 CGC SIGNATURE SERIES SIGNING VIP EVENT with CHARLOTTE MINI-CON 2020
When and where
Location
The Westin Charlotte 601 S College Street Charlotte, NC 28202
Description
#CLTMiniCon
The CHARLOTTE MINI-CON is hosting a CGC Signature Series VIP Event on Friday evening, February 7th from 7pm-10pm!
This EXCLUSIVE VIP EVENT will take place at the Westin the evening BEFORE the Charlotte Mini-Con and will grant its attendees the opportunity to have items signed, witnessed and submitted directly to CGC as part of the CGC Signature Series. There will be a cash bar available for patrons of this event and attendees are welcome to stay and socialize with your favorite creators.

The exact location of this event will be revealed to ticket holders prior to the event via email.

This VIP TICKET will also grant you EARLY ACCESS to the Charlotte Mini-Con on Saturday, February 8th.

Submissions will be graded by CGC off-site and will be shipped back. Submission will carry the "CGC Signature Series" label.

Example of a CGC Signature Series Labels:
FROM CGCCOMICS.COM


HEROESCON 2019 EXCLUSIVE USAGI #1 - CGC SIGNATURE SERIES

Individual Artist Rates for CGC Signature Series Autographs for this Event are as follows:
Sanford Greene - $5.00 Per Signature
Adam Hughes - $20.00 Per Signature
Brian Stelfreeze - $5.00 Per Signature
CGC Signature Series Submission Rates Vary based on the value of the book submitted, turn-around time, and other variables. You can read more about CGC Signature Series Rates here: https://www.cgccomics.com/submit/services-fees/cgc/
You can read more about the CGC Series on the CGC Website here: https://www.cgccomics.com/signature-series/
You may also submit items that you are NOT having signed to CGC at this time, as well as well as during the Charlotte Mini-Con on Saturday.
We recommend that you complete your FREE forms ahead of time on the CGC Website here if you are not already a member on the CGC website: https://www.cgccomics.com/showjoin/
____

ADMISSION: $15.00
Includes EARLY ADMISSION to the Charlotte Mini-Con on Saturday, February 8
This does not include individual Artist Fees, or Submission Rates For CGC
*The Friday, February 7th CGC Event is NOT FREE to 18 and Under*
____

LOCATION/HOTEL:
Westin Charlotte
601 S College St, Charlotte NC 28202

Charlotte Mini-Con Hotel Rate Available HERE: https://www.marriott.com/events/start.mi?id=1571861131416&key=GRP
____

CLT MINI CON 2020 PARKING:
There is a paid parking deck attached to the Westin Charlotte with elevator access to the Charlotte Mini-Con on the Ground Floor of the Westin Charlotte.
Parking in the deck is currently $10.00, but rates may increase.
____

LIGHT RAIL:
The Westin Charlotte is located at the Stonewall Station stop on the Charlotte LYNX Blue Line.
https://charlottenc.gov/cats/rail/lynx-blue-line/Pages/Stations-Park-and-Rides.aspx

Utilizing the LYNX Light Rail would be an EXCELLENT solution for travel to and from the Charlotte Mini-Con!!

We encourage the use of the LYNX Light Rail, which runs from I-485/South Blvd in South Charlotte to UNC Charlotte Main in the University Area.

Parking at most of the stations outside of Uptown Charlotte is free, with LYNX fares ranging from $2.20 (K-12/62+) for a round-trip ticket, to $6.60 for one-day unlimited rides for all age groups. https://charlottenc.gov/cats/fares/fares-passes/Pages/lynx-fares.aspx
The Charlotte Mini-Con is brought to you by Heroes Aren't Hard To Find, the same folks who put on Heroes Convention. It will be a great time for the whole family!

Document Last Edited: January 14, 2020