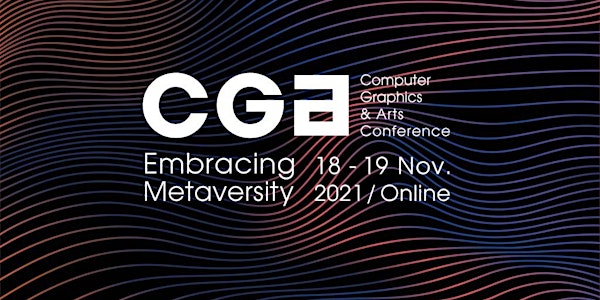 CGA Belgrade 2021 - Embracing Metaversity
CGA Belgrade 2021 goes beyond digital and sets the stage to explore virtual playgrounds for learning, creating and growing business.
When and where
Date and time
November 18, 2021 · 7am - November 19, 2021 · 12pm PST
About this event
Ready to embrace the metaverse?
CGA Belgrade 2021, a digital conference on computer graphics and arts will take its virtual place on November 18/19.
This year's theme is centered around Metaversity, a phrase we like because it blends the world beyond digital and university as the origin of collective wisdom. We wish to enhance the industry knowledge about the opportunities for design and production in the metaverse and officially embrace all its possibilities.
Through a variety of lectures, workshops and presentations, we will all take a glimpse into the exciting world of machine learning, metahumans, NFTs, and worlds that exist only in virtual reality. Joining us on this venture are our patrons from 3Lateral/Epic Games, Autodesk, Nordeus, Mad Head Games, Playstudios Europe and many more.
Keynote presentation by Wonder Dynamics, one of the most talked-about startups in Hollywood, led by Nikola Todorovic and Tye Sheridan, will discuss how new technology empowers artists in becoming storytellers.
CGA 2021 sessions are also designed for you to hone your technical and business skills. This is why the second day of the event will run two content tracks in parallel. Our speakers will try to demystify the NFT marketplace as a gateway to the metaverse and give insight into the career paths and development in major game dev studios. Meanwhile, the team of revolutionary thinkers from RevThink will teach you how to stand out from the army of talented CG professionals.
The programme ends with a panel discussion on ways to keep creativity moving, growing and evolving through collaboration and experimentation with industry seniors from CAVE Academy, Netflix, Unity Technologies, Framestore, and DNEG.
After this, we will quite literally move to the metaverse, that is in VRChat, where the official afterparty is planned.
Register now and read more about the programme here: https://bit.ly/CGA_Programme2021
About the organizer
Honoring the legacy of fearless pioneers whose unrelenting drive and fierce commitment to excellence have helped transform computer graphics into one of the fastest-growing industries worldwide, CGA Belgrade is an international platform bringing together leaders, innovators and game-changers to foster connections, build global networks and unpack latest trends and developments in the world of VFX, VR, gaming and digital arts.
Serbia Film Commission
Founder of the Film in Serbia brand, the Serbia Film Commission is the engine behind the growth of the country's capacities in servicing international film, TV and advertising projects. As a network of leading film production companies, studios, rental and post-production facilities, the SFC is always on the lookout for game-changing developments and growth opportunities.
Crater Training Center
Main industry knowledge nucleus, Crater Training Center provides learning opportunities for computer graphics industry newcomers and veterans alike. Taught by practicing professionals, Crater's courses are a carefully crafted mixture of theoretical knowledge, relevant industry insight and simulation of real-life production. 
VFX Serbia
The connective tissue of the Serbian VFX community, VFXSerbia is the leading industry publication and its most vibrant online hub. Always at the forefront of latest news and developments, it acts as the bridge between local professionals and their international counterparts, as well as a rite of passage for all VFX newcomers.