Description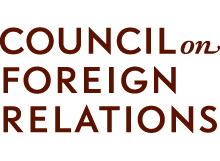 Register here to attend the Council on Foreign Relations (CFR) seventh annual Back-to-School Event at our New York headquarters!*
An important part of the CFR mission is to serve as a nonpartisan source of information and analysis for those learning and teaching about international relations and U.S. foreign policy. This event provides an opportunity to introduce students to the vast array of CFR resources and to interact with foreign policy experts.
The 2016 Back-to-School event will focus on the Amazon, featuring a presentation of CFR's most recent InfoGuide "Deforestation in the Amazon," and a panel discussion with Eve Bratman, assistant professor of environmental studies at Franklin & Marshall College, and Matthew M. Taylor, adjunct senior fellow for Latin America studies at CFR and associate professor at American University's School of International Service. Robert McMahon, managing editor of CFR Editorial, will moderate. Afterwards, you will have the opportunity to participate in a networking reception where you can learn about career and internship opportunities from CFR department representatives.
Registration will be held from 1:30 to 2:00 p.m. and the program will begin promptly at 2:00 p.m. Dress is business casual.
*Admission is restricted to students, professors, and administrators currently affiliated with a college or university.