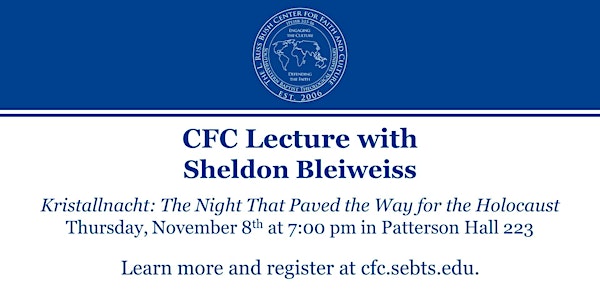 CFC Lecture with Sheldon Bleiweiss
When and where
Location
Center for Faith and Culture Seminar Room, Patterson Hall, Southeastern Baptist Theological Seminary 120 S Wingate St Wake Forest, NC 27587
Description
The Center for Faith and Culture invites you to hear Sheldon Bleiweiss on Thursday, November 8th at 7:00pm in the CFC Seminar Room.
Mr. Bleiweiss will be giving an interactive talk about Kristallnacht to commerate its 80th Anniversary. To read more from Mr. Bleiweiss about Kristallnacht, click here.
A child of two Holocaust survivors Shelly Bleiweiss grew up in Houston, Texas, the oldest of three children. His parents were both from Poland, and survived using false identities as non-Jews.
A retired clinical social worker and mental health counselor, Shelly has taught about the Holocaust for over 15 years, and spent five years as a docent at the Houston Holocaust Museum before moving to North Carolina in 2014. He lives in Wake Forest with his wife and two adopted dogs, and is a member of the North Carolina Holocaust Council, and the Holocaust Speakers Bureau.

Shelly was one of the mental health counselors for the 2002 week-long March of the Living trip to Poland, accompanying several thousand high school age students as they explored the remnants of Jewish life in Poland and toured a number of death camps. In 2004, Shelly was invited to participate in a two-week seminar at Yad Vashem, the world's premier Holocaust center in Jerusalem, on "Teaching the Holocaust".

Since arriving in North Carolina in June 2014, Shelly has talked about the Holocaust to hundreds of students in different communities around North Carolina. He has also talked to church and community civic groups, and teaches a course on the Holocaust for the Adult Education program at Temple Beth Or in Raleigh.