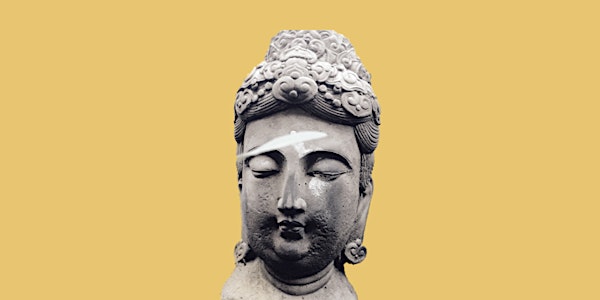 Centering BIPOC Communities in Dharma Practice
Closing Event in the 2021 Buddhism and Race Speaker Series: BIPOC Leadership Panel, "Centering BIPOC Communities in Dharma Practice"
About this event
Please join us for the eighth and final event in the Harvard Buddhist Community's 2021 Buddhism and Race Speaker Series. This event will be a panel discussion comprised of representatives from three BIPOC-led centers. They will explore and reflect upon the successes, difficulties, ongoing complexities, and emerging surprises of creating BIPOC-led and BIPOC-focused practice and healing communities.
August's event features:
East Bay Meditation Center, Oakland CA: Mushim Patricia Ikeda and Raúl Coronado.
Gathering Roots Retreat and Wellness Center, Seattle WA: Tracy Stewart and Nikki Ngọc Trân Châu.
Southside Liberation Center, Chicago IL: joshua bee alafia.
Moderator: Larry Yang.
If you register for this event, we will email you a Zoom link one day before the presentation.
This event will also be Livestreamed here: Livestream Link
Organizations:
Founded in a celebration of diversity, equity, radical inclusivity and justice, East Bay Meditation Center opened its doors in downtown Oakland, California in 2007. Over the past 15 years, EBMC has been extensively studied, praised, and looked to for modeling in how to create a Dharma community that serves and empowers historically excluded groups. It has operated on a system of gift economics, removing financial barriers to all of its programs, and is evolving a shared leadership model rooted in reducing conflict aversion and increasing skills of how to be with difference in dynamic, emergent strategy-based ways. www.eastbaymeditation.org
Gathering Roots Wellness provides place and space for Black, Indigenous and other people of color communities to heal intergenerational trauma and celebrate culture. We heal through communal wellness learning, mindfulness, ancestral land practices, artistic and cultural sharing. Our work follows the path laid by Harriet Tubman, Black femme activist tradition thriving for self, community, and in resistance of oppression. www.gatheringroots.org
At South Side Liberation Center, we are committed to cultivating thriving in the South Side of Chicago! We offer classes in meditation, yoga, capoeira, nutrition, Ifa, tai chi, Internal Alchemy, qi gong, dance, fetal health support, wellness and positive parenting. Our healing artists offer treatments in Tai Yoga massage, reiki, chair massage, Liberation Bodywork, acupuncture and hydrotherapy. Meditate. Detox. Rejuvenate. Liberate. www.southsideliberationcenter.org
Panelist Bios:
Mushim Patricia Ikeda is a Buddhist and secular mindfulness teacher and a core teacher at East Bay Meditation Center in Oakland, California. She has worked extensively with BIPOC Buddhist groups and has authored articles on Buddhist equity and inclusion published in various anthologies as well as in Buddhist media such as Lion's Roar, Buddhadharma, and Tricycle. www.mushimikeda.com
Raúl Coronado began meditating in 2007 when he enrolled in the East Bay Meditation Center's meditation for beginners course for people of color. A graduate of several long-term programs, including EBMC's Commit to Dharma and Spirit Rock's Dedicated Practitioner's Program, Raúl recently finished a three and a half year term on EBMC's Leadership Sangha (board of directors), serving as co-chair and then chair for the last two years. He is a professor of Ethnic Studies at UC Berkeley, the author of A World Not to Come: A History of Latino Writing and Print Culture (Harvard 2013), and was recently awarded a Guggenheim Fellowship. His teaching and research focus on how communities of people, especially communities of color and queer people, in the past have left traces of their soul through writing, and in that way seeks to integrate into his teaching and research Buddhist principles of presence, no-self, and impermanence.
Tracy L. Stewart is mindfulness based mental health therapist at the Nile's Edge wellness collective and activist in Seattle, WA. She currently serves on the board of SURGE a BIPOC centered reproductive justice organization, Buddhist Peace Fellowship (BPF) – Seattle, and has served on three Social Justice Fund (SJF) giving projects. She sees her role in community as working to create supportive, safe space for BIPOC folx in discovering their gifts through mindfulness practice and social justice awareness. Her cup is filled by the outside places, silly friends with microphones, passion for life, and folx sharing their good medicine with each other. "My focus is learning to be a good elder in order to support those out in the community fighting for all us to BE. In my work, I see a lot of suffering of black and brown folx who are warn from fighting to be their full selves. With Gathering Roots, the intention is creating a place where that burden can be released, people can fill their cups with joyful learning and the beauty of the Earth, witnessed and empowered to be all that they are."
Ngọc Trân "Nikki" Châu was born in Viet Nam and immigrated to the U.S. as a child refugee, an inheritor of the legacy of colonial and war violence in Southeast Asia. She comes from a land of fog wrapping around pine trees in the morning, hilly streets, coffee trees, and avocado trees in her grandmother's front yard. Her work as a designer and community organizer is anchored in anti-oppression, anti-racist work. Her major indulges include cats and durian.
joshua bee alafia's meditation practice began in 1989 when his mother gave him a mantra to work with. This sparked a rich journey into different styles from the Hawaiian Shamanic, Hindu, Sufi, Dzogchen, Taoist, and Vipassana traditions. Wanting to bring Vipassana practice to the youth, he began teaching mindfulness practice to incarcerated, court involved and system vulnerable youth through New York's Lineage Project in 2010. He graduated from the Community Dharma Leaders training through Spirit Rock Meditation Center in 2012. He has also taught in the corporate setting, at MNDFL, New York Insight, the Brooklyn Zen Center, East Bay Meditation Center, public schools and universities, and recently taught his first 10-day retreat entitled Liberating the Heart, Dismantling Oppression, with Arinna Weisman, Phoenix Soleil and Lyn Fine in Joshua Tree at Dhamma Dena Retreat Center. He currently teaches mindfulness meditation with South Side Insight Meditation Circle and Taoist Meditation with Immortal Arts Chicago. He is also a filmmaker and has a seven-year-old son.
Larry Yang (moderator) is one of the founding teachers of both East Bay Meditation Center (Oakland) and Insight Community of the Desert (Palm Springs) and was previously on the Teachers Council of Spirit Rock Meditation Center for 10 years. Larry is currently a senior advisor in Mindfulness and Healing Justice for the Kataly Foundation, to provide grants supporting community-based Mindfulness and Awareness practices for racially diverse multicultural groups and organizations.
About the 2021 Buddhism and Race Speaker Series
The Buddhism and Race Conference was conceived by the Harvard Buddhist Community in 2015. Ever since, the conference has become an annual event that brings together sangha leaders, activists, scholars, and students from diverse backgrounds to build capacity in addressing power at the intersection of race, gender, sexuality and class in our communities. This year, the conference has been reimagined as the 2021 Buddhism and Race Speaker Series (BRSS), with monthly virtual events from January through August. We will be exploring how to move toward decolonized, indigenized and anti-racist Buddhist practices and communities.
For more information about the 2021 Buddhism and Race Speaker Series, please visit our website: https://buddhismandrace.com/
___________________________________________________________________________________________
Note: We are collecting demographic information about our attendees to better understand and serve the community of people attending the 2021 Buddhism and Race Speaker Series. The demographic questions on the registration form are optional; please share as much information with us as is comfortable for you.