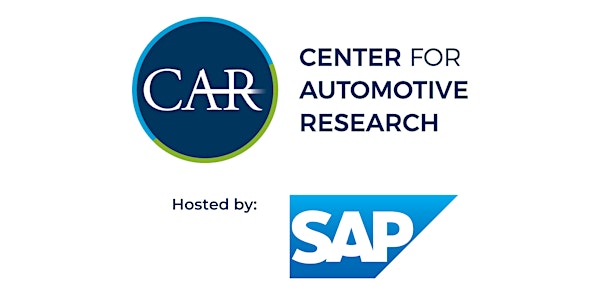 Center for Automotive Research: EV Charging Workshop - Hosted by SAP
Join the Center for Automotive Research (CAR), Affiliates, and SAP for an interactive panel discussion and workshop in San Ramon, CA.
When and where
Location
Roundhouse Market & Conference Center 2600 Camino Ramon San Ramon, CA 94583
About this event
This CAR workshop will explore the current EV Charging landscape in the U.S. and identify how stakeholders can work to address challenges and identify solutions to ensure an outstanding a successful EV charging ecosystem.
There is a need to improve the U.S. public charging experience. The consumer experience has been inconsistent and often unreliable. The poor performance has degraded user trust and, if not resolved, will lead to delayed adoption
As an industry, it is essential to ensure consumers (and fleets) can access reliable EV charging. The rapid expansion of BEV models & EV Charging stations/locations makes an already challenging task even more challenging.
Administration has established a goal to support the development of a reliable national network for EV Charging. A key measure of this goal is establishing a 97 percent uptime requirement for EVSEs. It is important to understand what needs to be done to measure and achieve the goal (i.e., how is it measured, standardized, and regulated?).
This complex challenge requires vehicle manufacturers, charging station manufacturers and network providers, utilities, and the government to coordinate better. How is this working today, and what can we do together to identify and address these challenges?
Speakers include:
Rivian - Sarah Hipel, Energy and Charging Interoperability
Alliance for Automotive Innovation - Dan Bowerson, Senior Director, Energy & Environment
Cool the Earth and Ride & Drive Clean - Carleen Cullen, Founder & Executive Director
Pacific Gas and Electric (PG&E) - Samantha (Sam) Piell, Expert Program Manager, EV Fast Charge
ASPIRE NSF Research Center - Tallis Blalack, Managing Director
+ More TBA