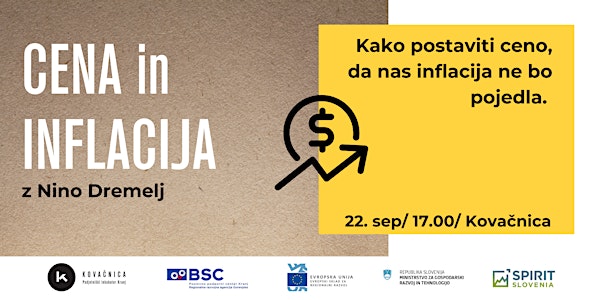 Cena in inflacija
Delavnica, kjer bomo spoznali, da je uspeh podjetja velikokrat odvisen tudi od pravilno postavljene prodajne cene.
When and where
Location
Kovačnica 22 Župančičeva ulica 4000 Kranj Slovenia
About this event
Uspeh podjetja, ki svoj izdelek ali storitve prodaja, ni vedno odvisen samo od trga ter posledično kakovosti in povpraševanja, ampak je njegov uspeh velikokrat odvisen tudi od pravilno postavljene prodajne cene. Ta mora biti takšna, da je kupec pripravljen kupiti, podjetje pa zaslužiti, to pa velja še posebej v negotovem času inflacije, ko si lahko z napačnim formiranjem prodajne cene naredimo več škode kot koristi.
Obstaja veliko različnih načinov za oblikovanje cen novih izdelkov ali storitve, univerzalna formula žal ne obstaja. Obstajajo pa koraki in vprašanja na katera morate znati odgovoriti, saj lahko z njimi določite pravo prodajno ceno za svoj izdelek/storitev.
Določanje cene izdelku je eden od osnovnih korakov pri gradnji uspešnega podjetja, za katerega nekateri menijo, da je enostaven. Določiti ceno izdelku, storitvi, je vse prej kot enostavno, pravzaprav je zahtevno in zahteva prave informacije in znanje, predvsem pa doslednost in ažurnost.
V kolikor izdelku ali storitvi pravilno določite ceno lahko vaša prodaja raste, posledično se v podjetju lahko ustvari dobiček in tako ima podjetje dobre temelje za rast. Nasprotno pa če tega ni, lahko celo najboljši izdelek na trgu doživi polom, Tega pa si ne želite!
Spoznali boste:
• Cenovne modele
• Cenovne politike
• Marketinški mix in vloga cene
• Določanje cene in vrste cen
• Izračun cene
• Umestitev na trg na podlagi cene
• Vpliv na pridobivanje investicije
Predava: Nina Dremelj
Nina Dremelj je predsednica Poslovnih angelov Slovenije. Njena največja strast je pomagati podjetnikom, da njihove ideje spremenijo v prava, uspešna podjetja. V zadnjih 5 letih je investirala v več kot 16 startup podjetij, tako slovenska kot tuja in pomagala skleniti več kot 40 dodatnih investicij v vrednosti 40+M. Trenutno je predana tudi svojemu podjetju Alita Capital, kjer so pravi vlagatelji - relativno majhne zneske ter veliko svojega časa in znanja vlagajo v izjemno zgodnje ustanovitelje oz. ustanavljanje ekip s trajno voljo za oživitev inovativnih projektov.
V preteklosti je bila solastnica in uspešno vodila švicarski seed sklad AlpVent AG. Leta 2021 je pod okriljem poslovnih angelov pomagala ustanoviti prvi sklad tveganega kapitala daFUND, ki ga podpirajo poslovni angeli Slovenije, v katerem je vlagateljica in članica investicijskega odbora.
Delavnica je brezplačna in bo potekala "v živo" v četrtek, 22. 9. 2022 ob 17.00 uri.
//
Dogodek se odvija v okviru Kovačnice - podjetniški inkubator Kranj »SIO BSC 2020-22«, ki ga sofinancirata Republika Slovenija in Evropska unija iz Evropskega sklada za regionalni razvoj. Operacija se izvaja v okviru Operativnega programa za izvajanje Evropske kohezijske politike v obdobju 2014 – 2020, prednostne osi: 3 Dinamično in konkurenčno podjetništvo za zeleno gospodarsko rast.