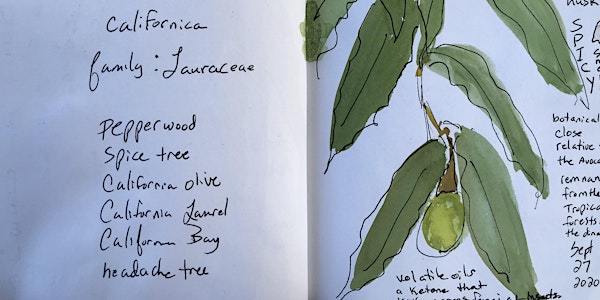 Celebrate Fall with Nature Journaling — A 4 week session
Celebrate the coming rains with an introduction to the practice of nature journaling.
When and where
Location
Laguna de Santa Rosa Foundation 900 Sanford Road Santa Rosa, CA 95401
About this event
Slow down and refresh your spirit by spending time in nature. Engage all your senses to create colorful journal pages using words and watercolor. Topics of interest will be bird migration, adaptations for survival, and the water cycle. See the world with new eyes and discover the richness that is the Laguna de Santa Rosa.
The 4 workshops will be split between two locations. One being the Laguna Environmental Center with the native garden and incredible views as the points of interest. The other location will be the Laguna Uplands Preserve; a hidden gem within the city of Sebastopol that has been stewarded by the Laguna de Santa Rosa Foundation and its partners for over 20 years. With the large bird activity at the LEC and the evidence of badgers at the Uplands Preserve there is a surplus of exciting opportunities for incredible journal entries.
There will be a flat fee of $85 for all the sessions. The DATES and LOCATIONS for each session are as follows:
Saturday November 5th @ Laguna Environmental Center
Saturday November 12th @ Laguna Environmental Center
Saturday November 19th @ Laguna Uplands Preserve
Saturday December 3rd @ Laguna Uplands Preserve
About the Artist: Angela Zocco Sturr has taught art and ceramics from her Sebastopol studio for many years. She holds a Bachelor of Fine Arts degree and shows her work locally.
As a longtime docent of the Laguna Foundation's Learning Laguna program, she trained for numerous outdoor education programs and completed the UC Naturalists program to become a California Naturalist. As a participant in the citizen science program Beach Watch, she also gathers data monthly on South Salmon Creek beach.