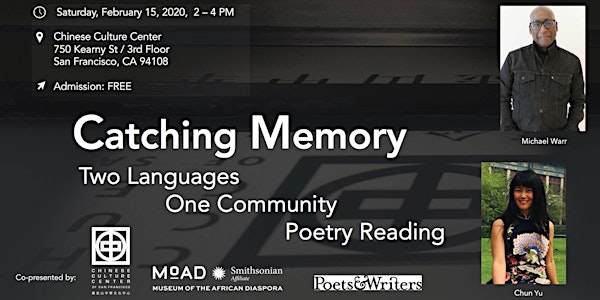 Catching Memory — Two Languages / One Community Poetry Reading
Location
Chinese Culture Center of San Francisco
750 Kearny St
3rd Floor
San Francisco, CA 94108
Come hear award-winning writers Michael Warr and Chun Yu recite their poems in Chinese and English!
About this event
Award-winning writers Michael Warr and Chun Yu will recite their poems in Chinese and English and share related images. They will share works written as part of their Two Languages / One Community Workshop Series in which they engage African American and Chinese American participants in a rare cultural exchange based on dialogue, storytelling, and writing.
Workshop attendees write poems and short stories based on memories sparked by photographs of their parents, their younger selves, and other family members. The writing is translated in Chinese and English and published online and as a book titled Catching Memory.
Following the featured reading, the audience will have an opportunity to share their poems and stories based on their family experience. Each open mic reader will have three minutes.
Chun Yu, Ph.D., is the author of the award-winning memoir Little Green: Growing Up During the Chinese Cultural Revolution (Simon & Schuster), a historical graphic novel in progress (Macmillan) and more. Her work has been published in the award-winning anthology Veterans of War, Veterans of Peace, Open Doors, Boston Herald, MIT Tech Talk, etc. Her new bilingual poetry collection in English and Chinese and her graphic novel on Chinese immigration experience have won San Francisco Arts Commission Cultural Equity and Individual Artist Grants. Her work merges science, art, and spirituality based on her experiences as an immigrant from an ancient culture undergoing revolution to a new world of transformative science and technologies. She has won support from the Zellerbach Foundation and Poets and Writers for her community work in poetry and writing. "Chun Yu's poetry creates sense and order that readers young and old, eastern and western, will appreciate," writes Maxine Hong Kingston. She holds a Ph.D. in chemistry. Her website: www.chunyu.org.
Michael Warr's books include Of Poetry and Protest: From Emmett Till to Trayvon Martin, The Armageddon of Funk, We Are All The Black Boy, and Power Lines: A Decade of Poetry From Chicago's Guild Complex. Other poetry honors include a Creative Work Fund award for his multimedia project Tracing Poetic Memory in Bayview Hunters Point, PEN Oakland Josephine Miles Award for Excellence in Literature, Black Caucus of the American Library Association Award, Gwendolyn Brooks Significant Illinois Poets Award, a National Endowment for the Arts Fellowship for Poetry, and a San Francisco Library Laureate. Later he became a board member of the Friends of the San Francisco Public Library in 2018. Recently a series of readings, panels, and an exhibition were featured at the Stony Island Arts Bank in Chicago based on his book Of Poetry & Protest. Michael is the former Deputy Director of the Museum of the African Diaspora and has extensive experience in community-based arts. Follow his creative work at armageddonoffunk.tumblr.com.
Co-presented by: Museum of the African Diaspora
This event is supported in part by Poets & Writers.