Description
DOGS, MUSIC and 'TINY HOME' BUSES

We're so excited about this upcoming event with singer songwriter Dan Bern at BADRAP's Rescue Barn. Dan's wacky prose and comical cultural commentary is always a good time. Even more, proceeds from this event go directly to an emergency housing solution for Camp Fire survivors.

Doors open at 5pm. Show starts at 6pm.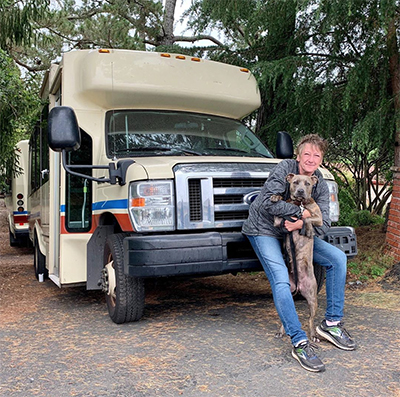 CAMP FIRE DISASTER RESPONSE WORK:

BADRAP has acquired a small fleet of transit buses and is donating them to displaced dog owners from the 11/2018 Camp Fire to serve as homes. Each is customized with new flooring, solar power, small appliances , a bed and furnishings to allow survivors to live off-grid while they sort out their best options for next steps. Come enjoy the Rescue Barn grounds, meet some great dogs and fine people, and peek inside some of the buses that have been matched to waiting recipients. Learn more about the Bus Homes.

Dan Bern is an American guitarist, singer, songwriter, novelist and painter. A Bay Area favorite, his music has been compared to that of Bob Dylan, Woody Guthrie, Bruce Springsteen, Phil Ochs and Elvis Costello. He is a prolific composer, having written over one thousand songs.
QUESTIONS
Can kids come?
Well supervised, dog friendly kids are welcome. Your dogs will have to stay at home, unfortunately.

What are my transportation/parking options for getting to and from the event?
You'll need a car to get up to our Oakland hills location. There's plenty of parking once you're here. This is a residential neighborhood, so we thank you in advance for being considerate to our neighbors. No blocking driveways, etc.
What can I bring to the event?
Cameras - Yes!
Our grounds are uneven and it will get chilly after sunset, so please wear your best 'ranch friendly' footwear and bring a warm jacket.


What can I bring to help the Camp Fire families who've been matched to the buses?
Thanks for wanting to do more. We're collecting gift cards for the survivors, especially cards from Safeway, Chevron, Lowes, Pet food stores and VISA cards too, if you'd like to provide funds for general living expenses,