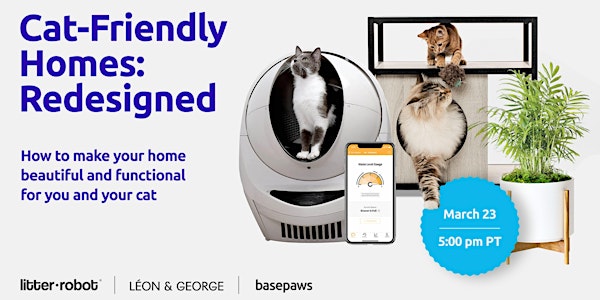 Cat Friendly Homes: Form and Function
How to meet your cat's needs without sacrificing style? Join Experts in plants, pet furniture, and cat behavior in this one-of-a-kind panel!
About this event
In this one of a kind panel, we bring together feline, plant and pet furniture design experts to discuss how to make our homes fresh and functional for both humans and pets!
Our Panelists:
Dr. Mikel Delgado, a Postdoctoral Fellow at UC Davis School of Veterinary medicine, and an expert in Feline Enrichment.
Matthew Wyman, New Business and Accessories manager at Litter-Robot
Kailie, a Plant Stylist at Leon and George, US leading houseplant delivery service
Beth Paterson, Veterinary Pet Care Professional and owner of pet care business Pawsitive Vibes Jax LLC!
Attendees will be entered into a raffle to win a prize bundle by Basepaws! Have your cats ready and join us! 😺