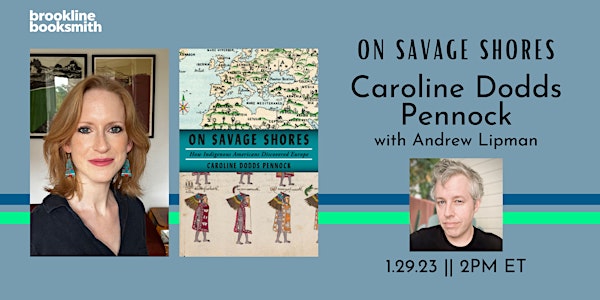 Caroline Dodds Pennock with Andrew Lipman: On Savage Shores
Read on for important registration and book order details for this Brookline Booksmith virtual author event!
Refund Policy
Contact the organizer to request a refund.
Eventbrite's fee is nonrefundable.
About this event
Celebrate the release of On Savage Shores: How Indigenous Americans Discovered Europe with author Caroline Dodds Pennock, in conversation with Andrew Lipman.
This virtual event is free to attend. If you're able to purchase a book, thank you - your book purchases support the author and help us to continue offering author events!
How to Register
Register on this page to receive a Zoom link
Register free, support the store, or buy the book to enter the event
If you don't receive a confirmation email after registering, contact us
Get Your Books
Books are held for pickup or shipped after ticket sales have closed.
STORE PICKUP- Pick up your book in person at Brookline Booksmith (Click here for directions). You will receive an email alert when your book is ready.
SHIPPING - Have your book shipped via USPS priority mail. Shipping is only available in the United States.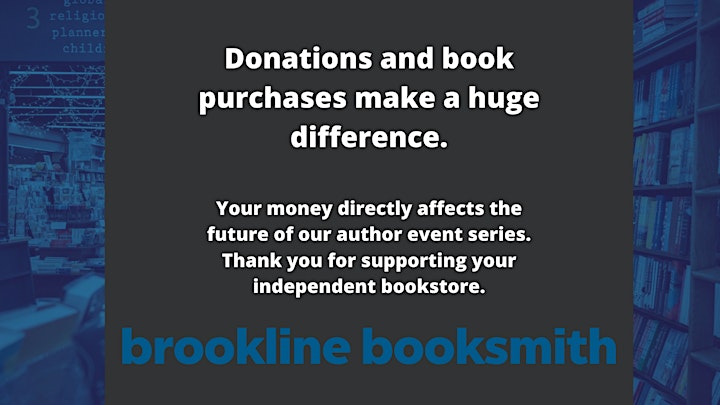 On Savage Shores: How Indigenous Americans Discovered Europe
A landmark work of narrative history that shatters our previous Eurocentric understanding of the Age of Discovery by telling the story of the Indigenous Americans who journeyed across the Atlantic to Europe after 1492.
We have long been taught to presume that modern global history began when the "Old World" encountered the "New", when Christopher Columbus "discovered" America in 1492. But, as Caroline Dodds Pennock conclusively shows in this groundbreaking book, for tens of thousands of Aztecs, Maya, Totonacs, Inuit and others —enslaved people, diplomats, explorers, servants, traders—the reverse was true: they discovered Europe. For them, Europe comprised savage shores, a land of riches and marvels, yet perplexing for its brutal disparities of wealth and quality of life, and its baffling beliefs.
The story of these Indigenous Americans abroad is a story of abduction, loss, cultural appropriation, and, as they saw it, of apocalypse—a story that has largely been absent from our collective imagination of the times. From the Brazilian king who met Henry VIII to the Aztecs who mocked up human sacrifice at the court of Charles V; from the Inuk baby who was put on show in a London pub to the mestizo children of Spaniards who returned "home" with their fathers; from the Inuit who harpooned ducks on the Avon river to the many servants employed by Europeans of every rank: here are a people who were rendered exotic, demeaned, and marginalized, but whose worldviews and cultures had a profound impact on European civilization.
Drawing on their surviving literature and poetry and subtly layering European eyewitness accounts against the grain, Pennock gives us a sweeping account of the Indigenous American presence in, and impact on, early modern Europe.
Caroline Dodds Pennock is one of the world's leading authorities on the Aztecs. Trained at Oxford, she is senior lecturer in international history at the University of Sheffield, and her study of Aztec human sacrifice, Bonds of Blood, won the Royal Historical Society's Gladstone Prize in 2008.
Moderator Andrew Lipman is Associate Professor of History at Barnard College, Columbia University. His first book, The Saltwater Frontier: Indians and the Contest for the American Coast, won the 2016 Bancroft Prize in American History. He is presently completing a book about Tisquantum, the Wampanoag man better known as "Squanto," who is most famous for helping the Mayflower colonists survive their first year in America. Lipman also grew up in Brookline and is a proud graduate of Pierce elementary school and Brookline High.
About Brookline Booksmith
We are one of New England's premier independent bookstores, family-owned and locally run since 1961. We offer an extensive selection of new, used, and bargain books; unique, beautiful gifts; award-winning events series; and specialty foods. Every day, we strive to foster community through the written word, represent a diverse range of voices and histories, and inspire conversations that enrich our lives. Find more at brooklinebooksmith.com!
EVENT ACCESSIBILITY
Barring technical difficulty, auto-transcription is enabled on all Brookline Booksmith Zoom Webinar events.