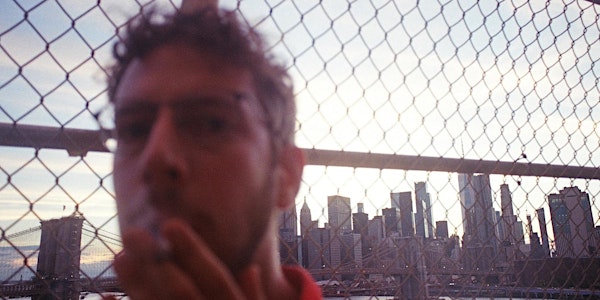 Carlos Truly "Not Mine" Record Release Show, James Tillman, Elysse
Performers
Carlos Truly
James Tillman, Elysse
Location
Union Pool
484 Union Ave
Brooklyn, NY 11211
Carlos Truly x Elysse Record Release, James Tillman
About this event
Carlos Truly, James Tillman, Elysse at Union Pool.
Carlos Truly

As a reserved kid growing up in Brooklyn, Carlos Hernandez would spend his subway rides bumping Al Green and Beethoven on his mp3 player, and weekends writing classical music on his mom's piano. As a teenager he began singing his private thoughts into a microphone, a practice that would grow to become the critically acclaimed touring group, Ava Luna. His early 20s were spent entrenched at the beloved DIY sanctuary, Silent Barn in Bushwick--making a living cutting hair and recording bands in an auto mechanic's garage. Since then, he has cultivated a production career that includes credits from genre-expansive artists like Princess Nokia, Frankie Cosmos, Sneaks, Gustaf, Mr Twin Sister, Taphari, and Palehound. With Ava Luna on hiatus, Carlos now returns to his songwriting roots as Carlos Truly. Navigating a multi-cultural family history with tracks largely produced by his real-life brother Tony Seltzer, Carlos's songs sit in a charged, intimate space. His brother's celebrated underground hip-hop sensibilities mingle securely with Carlos's pot-smoking nerd energy. His vocals evoke the classic sounds his father (a legendary soul & funk DJ) would spin at home, the irreverence and joy of NYC's DIY scene, and the heady sonic worlds of an imagination shaped by a lifetime in the city.

James Tillman

James Tillman is easily one of the most thought-provoking singer-songwriters in modern soul. This isn't just because he releases songs that touch on intricate feelings and emotions, but because each project he releases makes a statement. After giving us a taste with songs like "Things To Say," the artist is back with yet another statement with the release of his latest album Modern Desires. During a time when many are forced to ponder what it really is they want out of life (and love), Modern Desires seems right on time. Not only does the project deal with romantic love and longing but with other aspects of desire in this day and age. "We are anxious about the future. Anxious about the past. Sometimes we just lose control. Discipline and surrender are in order, but must be tempered," Tillman told American Songwriter about the album. "We lay awake thinking of love, late into twilight. We sleep walk on days when rest eludes us. There are highs and there are lows. We want what we want. What does it look like to see someone remember? What do I desire? What do I need? Simple questions connect us all. Feel present, be love." These ideas are represented well throughout the eight-song set. Tracks like "5AM," "Lose Control" and "Tokyo Love Affair" deal with romantic aspects and the struggle that sometimes comes with them. Meanwhile, he touches on other themes with tracks like "Wake Up," a dream-like call to be present in the life one has chosen, and "Ways," which deals with learning to accept people for who and where they are in life. Even with all these heady concepts, Modern Desires still has the same qualities of his last album, Silk Noise Reflex. That means that its musical motifs and deft lyricism work together to create a unique listening experience that only James Tillman can give.

Elysse

Songmaker & multidimensionalist.