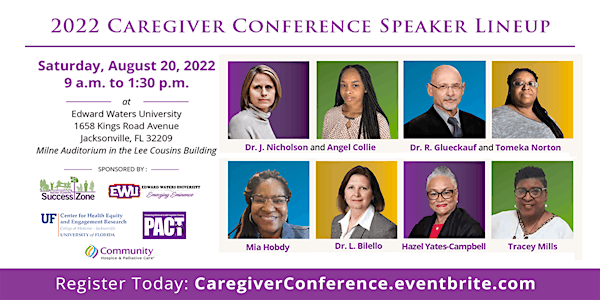 Caregivers Partnering and Connecting with the Community Conference
Location
Edward Waters University
1658 Kings Road
Jacksonville, FL 32209
Are you a caregiver? You are not alone. Don't miss this free caregiver conference that will provide helpful resources.
About this event
Are you the caregiver for a parent, loved one or other adult? Join us for a FREE workshop to discuss common struggles and discover resources that are available to help you as a caregiver. Helpful resources and organizations will be on site to answer your questions.
Join us Saturday, August 20, 2022, from 9 a.m. to 1:30 p.m. at Edward Waters University Milne Auditorium in the Lee Cousins Building.
Free continental breakfast and lunch will be provided for attendees from 8 to 8:50 a.m. A grab-and-go box lunch will be available at the conclusion of the event.
Event topics include:
Caring for the Caregiver
How to recognize the signs for more care
Preventing Alzheimer's with cognitive training
ACTS2 Faith-based Caregiver Skills-Building and Support
COVID-19 Now, Community and community initiatives
For more information, please call 904.407.6121.
This FREE event is sponsored by Edward Waters University, UF Health Center for Equity and Engagement Research, New Town Success Zone, Preventing Alzheimer's with Cognitive Training, and Community Hospice & Palliative Care.