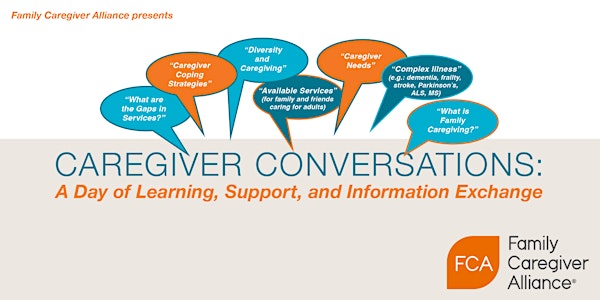 Caregiver Conversations: A Day of Learning, Support, and Information
Are you caring for an adult family member or friend? We welcome current & former SF caregivers to join us on Thursday, August 18th, 2022.
When and where
Location
Cathedral of Saint Mary of the Assumption 1111 Gough Street San Francisco, CA 94109
About this event
Join us for a day of learning, support, and information exchange!
This convening is for family and friends caregiving in San Francisco or nearby for an adult living with a complex illness (e.g. Alzheimer's and other dementias, general frailty, Parkinson's, stroke, Lou Gehrig's disease (ALS), Multiple Sclerosis, and like conditions), and for professionals who provide services to these caregivers and care receivers.  
8:30am - Light Breakfast and Registration
Nondenominational Blessing by 'We Are One' group (a coalition of religious leaders from Japan town and the Western Addition)
Welcome: San Francisco District #1 Supervisor Connie Chan
A Brief Look at Caregiving in San Francisco: Kathleen A. Kelly, Executive Director, Family Caregiver Alliance (FCA)
Keynote Panel of Local Experts: Dr. Anna Chodos, Geriatrician, UCSF/ZSFG; Dr. Wagahta Semere, Primary Care, UCSF/ZSFG; Kelly Dearman, Executive Director, SF Disability & Aging Services (DAS), Emily Chum, Director of Social Services, Self-Help for the Elderly (SHE)
A Caregiver Panel of SF residents
Interactive Topic Discussion with Fellow Caregivers
Wellness Activity, and Treats to Send Home With You
We look forward to seeing you!
Note: Please be sure to read the following important information about the convening.
Covid guidelines: Please attend vaccinated and well. Mask wearing is welcomed. Free masks will be available on-site if you forget yours. If you feel sick please stay home and instead watch the day using the simulcast link (included in your registration confirmation). We follow the SF Public Health Department Guidelines.
Deadline for registration is August 15, 2022 
Respite: A limited number of in-home respite grants are available for those who need someone to be with the person you care for so that you can attend this event. The grants are available on a first-come, first-served basis. Contact Family Caregiver Alliance (FCA) at 415-434-3388 Ext.331 by August 1, 2022 for more information. Ask for the "Caregiver Conversation Event respite" when you call.
Simulcast: This Caregiver Convening is an in-person event with time to meet fellow caregivers, ask questions and join in the celebration. If you find that you will NOT be able to attend due to illness or another situation, but would still like to watch (note: we will have one opportunity during the convening for caregivers joining by Zoom to participate in a group conversation), you will find the simulcast Zoom link on the confirmation page once you register for this event.
We look forward to seeing you on August 18th.
Thank You!