Description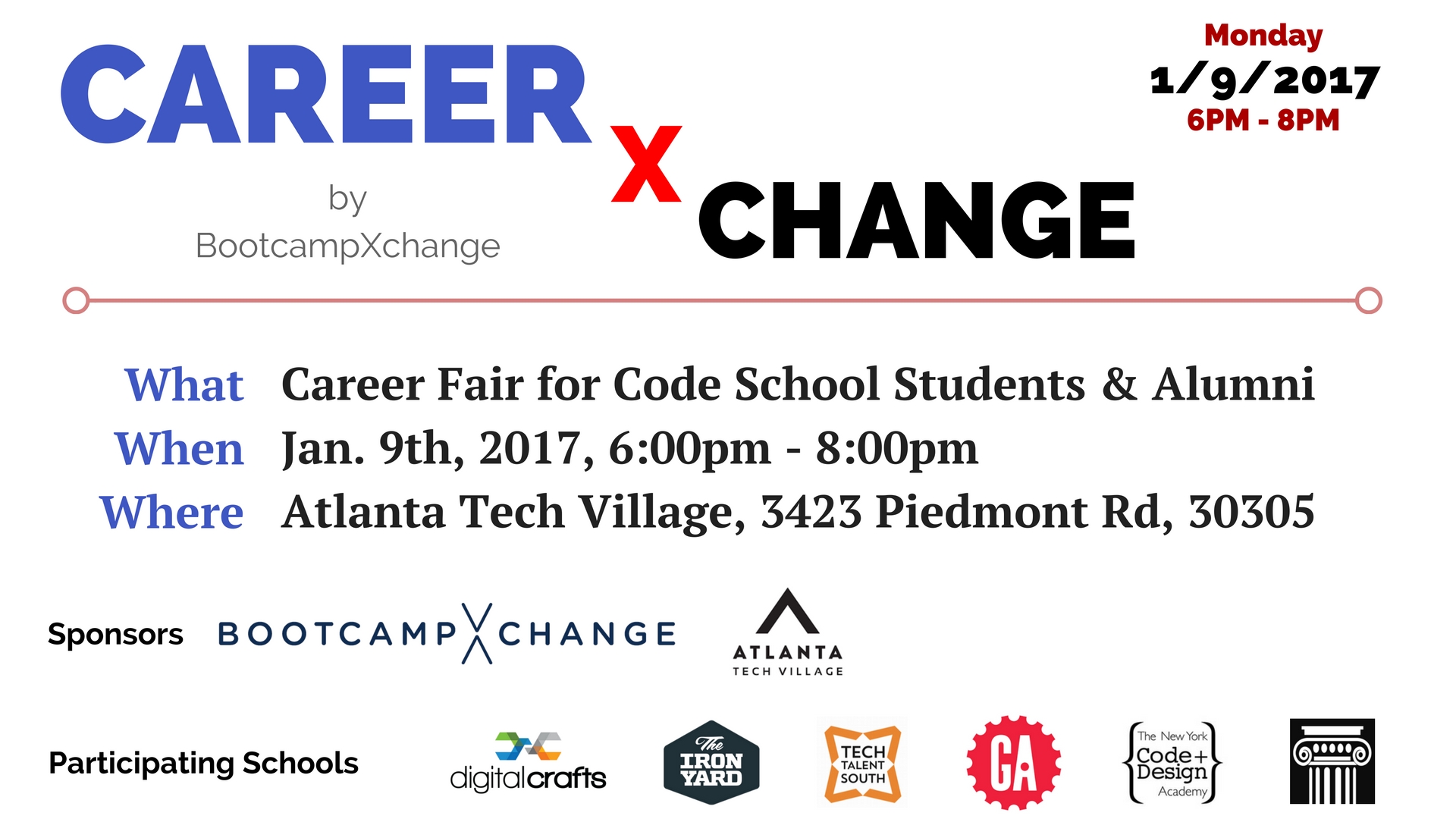 ---
Come out to Atlanta's CAREERxCHANGE! A Career Fair for Code School Students & Alumni.
If you have attended a coding school or coding bootcamp and are looking for a career in Atlanta, you can't afford to miss this event. CAREERxCHANGE is open to all current students and graduates from any coding school nationwide. Whether you attended an in-person program, online program, or a full-time or part-time program, CAREERxCHANGE is for you.
What should you expect?
For job seekers, we are expecting anywhere from 30 to 50 companies who are actively hiring for the skill sets below:
Digital Marketing

Product Management

Mobile Development (Android, iOS, Non-native)

Front-end Development

Back-end Development

Full-stack Development

Data Science

User Experience
For employers and recruiters, we are expecting anywhere up to 250 job seekers who are passionate about technology and skilled in the specific areas above. In Atlanta, we have partnered with DigitalCrafts, Tech Talent South, The Iron Yard, Career Code Academy, General Assembly and New York Code & Design to ensure we have a great turn out of high quality talent.
How does CAREERxCHANGE work?
CAREERxCHANGE operates like your typical career fair with the exception that you know exactly what to expect. Employers who attend should actively be hiring for junior and mid-level developers at a minimum, and all Job Seekers who attend should be currently enrolled or graduated from an in-person or online coding bootcamp and actively looking to break into the tech scene in and around the Atlanta area.
What does is cost?
For Job Seekers, there is no cost!
For Employers, the various table and sponsorship options are below. Depending on the demand from employers, we may have 2 companies per table.
Employer Table: $150 (Atlanta Tech Village Member Companies receive a 50% discount)
Event Sponsor: $1,000 (benefits listed below)
Event Sponsors limited to 5 companies
Company promoted on all marketing materials
1 table per company guaranteed
Prime location during event
What are the logistics?
CAREERxCHANGE will take place at the Atlanta Tech Village on January 9th, 2017 from 6:00PM - 8:00PM. Companies are encouraged to arrive no later than 30 minutes prior to the event.
What: CAREERxCHANGE: Career Fair for Code School Students & Alumni
When: Jan. 9th, 2017 from 6:00pm - 8:00pm
Where: Atlanta Tech Village 3423 Piedmont Road NE, Atlanta, GA 30305
Who: Students & Alumni for any coding school nationwide.
Please contact Jake Hadden for any questions. jake@bootcampxchange.com
---


Event Sponsors:
BootcampXchange
BootcampXchange is the world's first and only exclusive marketplace where code schoolers and employers can connect...for free! The goal for BootcampXchange is to serve as a nation-wide marketplace exclusively for code schoolers increasing their opportunity to connect with employers while also serving the Bootcamps' overall goal of successful job placement.
Atlanta Tech Village
Atlanta Tech Village is building a thriving ecosystem in the tech community. Our mission is to support and inspire entrepreneurs to achieve success through a community that promotes faster connections between talent, ideas and capital. Together, we will fuel Atlanta's rise to a top five tech startup center in the U.S.
Your Company Name?
Contact jake@bootcampxchange to become an event sponsor.