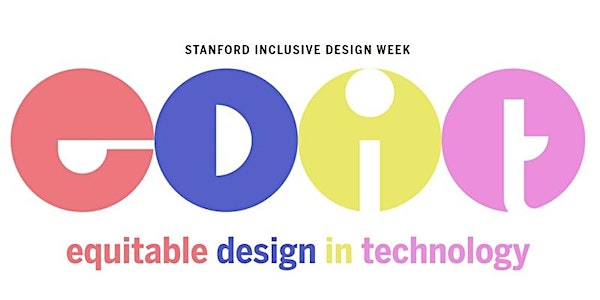 Career Panel: Inclusive Design in Tech
Industry panelists will conclude the Stanford EDiT conference with an Inclusive Design in Tech Career Panel.
About this event
Come join us for an engaging discussion on the principles of inclusive design and acessibility in industry settings.
Panelists include:
Allison Lettiere - Accessibility Team @ Apple
Allison Lettiere graduated with her Master's degree from Stanford University studying computer science, with a focus in artificial intelligence. She is interested in using AI to build assistive and accessible technologies, and currently works on Apple's Accessibility team as a software engineer.
Vivian Xiao - Accessibility Team @ Microsoft PowerPoint
Vivian Xiao is a designer at Microsoft in Silicon Valley, where she designs for engagement, inclusivity, and modern AI experiences in PowerPoint. Her design process is centered around empathy & storytelling, user research, problem solving, and prototype iteration. She graduated from Stanford University's Product Design program, where she studied design thinking, psychology, and computer science.
Mihaela (Mickey) Vorvoreanu - Senior Program Manager @ Microsoft Research
Mihaela Vorvoreanu (aka Mickey, aka Dr. V) is Senior Program Manager at Microsoft Research (MSR), where she drives research-based innovation and conducts scholarly research. Before joining MSR, she was Associate Professor in the Purdue Polytechnic Institute, where she created one of the first undergraduate programs in User Experience Design.