Description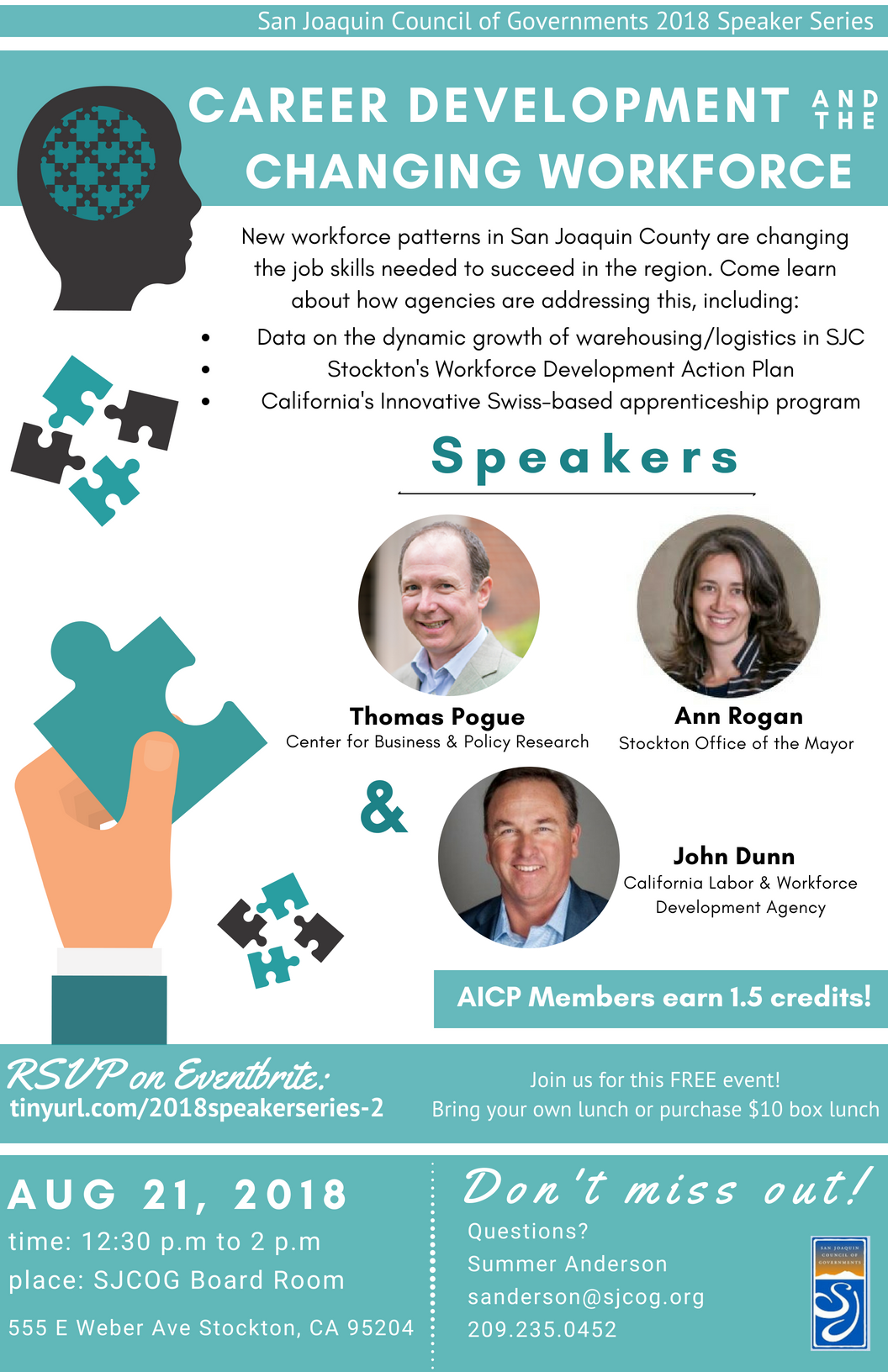 About
Please join us on August 21, 2018, from 12:30 p.m. to 2 p.m., to hear about local and State skills development initiatives, the local emerging warehouse economy, and a strategy used in Switzerland to enhance the workforce through providing equality between university degrees and workforce apprenticeship equivalency. Speakers include the Center for Business and Policy Research, Ann Rogan from the Stockton Office of the Mayor, and the California Labor and Workforce Development Agency.

Join us in listening to University of the Pacific's Center for Business and Policy Research (CBPR) introduce the skills development initiatives that are the focus of this speaker series by reviewing key dynamics in San Joaquin County's workforce. Among the issues this presentation will touch-on are skills implications from the County's growing integration with other parts of the Northern California Mega-region, as well as changes in the County's occupational and industrial patterns.

But that is not all! In the fall of 2017, the Mayor's Office convened a variety of workforce and educational leaders - alongside Valley Vision and University of the Pacific. That work has culminated in a Workforce Development Action Plan - with the specific call to action being the Skills PACT for Transformative Development. The Skills PACT revolves around several key themes that emerged from the workforce leadership series and was born out of a need to collectively recognize that the economic future of Stockton and San Joaquin County is intricately tied to the strength and dynamism of its workforce. A Skills Taskforce will drive implementation of this plan by bringing together local partners to test new, experimental ways of improving workforce objectives. Attendees will hear about this initiative and how it is planning for a vibrant workforce future for the region's residents.

Lastly, attendees will hear from the California Labor and Workforce Development Agency. California is one (1) of five (5) states in the United States that is supporting the development of High School Apprenticeship Programs. The California Initiative is informed by the highly successful apprenticeship system in Switzerland. It will include representatives of private industry, public agencies, students and local workers. Although the traditional focus is usually on developing apprenticeship programs working in partnership with the private sector, the State of California has initiated apprenticeship training programs in State Civil Service. This presentation will provide public agencies in San Joaquin County the opportunity to play a leadership role and participate in a program that supports the development of the region's future workforce.
Ticket Options
Bring your own lunch: FREE
Togo's Brown box lunch: $10.00 pay at the door

Box Lunches include: Sandwich on your choice of bread with chips and cookie (chip and cookie options below):

• Turkey & Avocado (Fresh avocado, provolone, lettuce, tomato, onion, pickle, pepperoncinis, and mayo)
• Viva Veggie (Hummus, roasted red peppers, feta, lettuce, tomatoes, onions, and lite balsamic vinaigrette)
• Roast Beef (1/4 lb of medium rare beef with lettuce, tomato, onion, pickle, pepperoncinis, and mayo)
• Ham & Cheese (1/4 lb of black forest ham, mayo, mustard, lettuce, tomato, onion, pickle, pepperoncinis, and your choice of cheese)
• Tuna (Premium albacore tuna, relish, lettuce, tomato, onion, pickle, pepperoncinis, and mayo)

Bread choices: White, Wheat, Parmesan, Sourdough

Cookie Choice: Chocolate Chunk, Peanut Butter, Oatmeal Raisin

Chips: Miss Vickie's Jalapeno, Lay's Original, Doritos Nacho Cheese, Miss Vicky's Salt and Vinegar, Sunchips Original, Lay's Sour Cream and Onion


Please make your choice and email to sanderson@sjcog.org by August 20, 2018