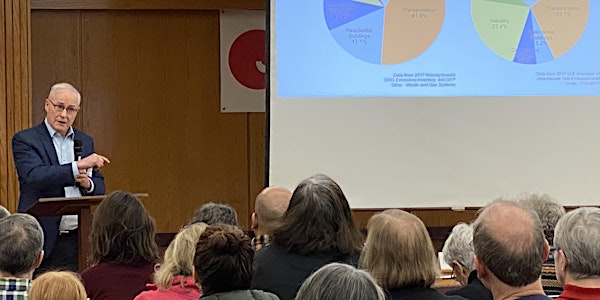 Carbon Countdown 2022, Reaching Beyond the Choir
Learn about current climate legislation from Sen. Mike Barrett. Explore initiatives that are successful in engaging people in action.
About this event
Here is the Zoom information you need for today's event:=============================================
Topic: Sustainable Middlesex Annual Meeting - Carbon Countdown 2022Time: Mar 26, 2022 09:30 AM Eastern Time (US and Canada)
Join Zoom Meeting
https://us02web.zoom.us/j/88922840113?pwd=Nlhmd0x6cEhWaWxxT3BRYVJ1TGI2QT09
Meeting ID: 889 2284 0113Passcode: 748775
One tap mobile
+16465588656,,88922840113#,,,,*748775# US (New York)
+13017158592,,88922840113#,,,,*748775# US (Washington DC)
Dial by your location +1 646 558 8656 US (New York)
+1 301 715 8592 US (Washington DC)
+1 312 626 6799 US (Chicago)
+1 669 900 9128 US (San Jose)
+1 253 215 8782 US (Tacoma)
+1 346 248 7799 US (Houston)
Meeting ID: 889 2284 0113Passcode: 748775Find your local number: https://us02web.zoom.us/u/kAglfEGrB
Hear from Massachusetts leader, Senator Mike Barrett, about the current status of climate legislation.
Be inspired by Natasha Juliana's overview of the new Cool Petaluma program in California, which engages over 1,200 households in small neighborhood meetings to reduce emissions and increase resiliency to climate change.
Learn about local initiatives that successfully"reach beyond the choir" during break out sessions, (see below).
All are welcome. The event is FREE. Please register. Zoom link will be sent to all registrants close to the event.
THANK YOU to MassEnergize for hosting us on Zoom for this event.
"We need to get more people involved in climate work at the local and state level. Special interests will slow progress down if they think they can get away with it. Let's not let them. Let's organize instead." —Sen. Mike Barrett
"Carbon Countdown is an exhilarating gathering involving dozens of towns and groups in Massachusetts. When people in a town come together to address climate change at the community level, much is achieved. However, when many communities come together to share ideas and to plan bold solutions for climate change, we see a sure path toward protecting this small blue planet we all share." —Lisbeth Bornhofft, Climate Activist
REACHING BEYOND THE CHOIR--BREAKOUT SESSIONS: Please check out this list and decide which one you will want to join on March 26.
1. Big Tent Community Environmental Events, Marcia Cooper, Green Newton and Ricki Pappo, LexCAN
Learn about Green Newton's successful Earth Day Festival and Lexington comprehensive Sustainability Fair. These events are successful at engaging hundreds of community members including families, residents, and businesses.
2. Eco Week: Week-long Community Engagement, Charlote Milan
Arlington EcoWeek is a time of learning, reflection, and action. Community and student groups and Town Departments offer presentations, tours, and interactive events to inspire connection to and celebration of our natural world. Organized by Town and School staff and volunteer groups, this annual event started in 2019. Stretching events over the course of 10 days and providing outdoor gatherings helps highlight existing Town programs and priorities, spurring community engagement and appealing to a variety of resident interests.
3. Community Drive Electric Event, Marty Bitner, Belmont Energy Committee
Learn about strategies used to reach out to neighbors to encourage them to consider electric vehicles. At our events, residents could drive electric cars, speak with neighbors who already owned an electric car, hear about pricing directly from car dealers, and learn about incentives from our municipal utility, Belmont Light.
4. Cool Rules for a Cool Planet: Passing Clean Heat , Cindy Arens, Clean Heat Lexington Alliance
Learn about how to mount a successful campaign for a Town Meeting article that led to a 175-4 positive vote through community engagement and one-on-one outreach to Town Meeting.
5. Tools and Networking for Community Leaders to Boost Sustainable Action, Brad Hubbard-Nelson, MassEnergize
MassEnergize is a nonprofit organization that works with community leaders to boost climate actions, providing them with tools to amplify their impact and track progress and access to a network of peers to learn and collaborate. Their community web platform is now used by over 20 Massachusetts communities to help residents take actions. MassEnergize strives to support a just transition to a clean, green and regenerative economy by ensuring that their tools and resources are accessible and affordable to all communities.
6. Engaging School Students and Parents in Sustainability through Curriculum and Community Events, Mary Jane Eustace, Cooler Communities, Lin Jensen and Tina Mcbride, LPS Green Teams
Schools are a fertile ground of learners! Hear about effective and successful methods to reach school populations through climate change curriculum development (Cooler Communities) and Zero Waste initiatives (LPSGreen Teams).
7. Engaging Neighbors, Alan Field , Cool Winchester and Natasha Juliana, Cool Petaluma, will describe two similar programs. In these programs, members of 5-8 households meet multiple times in order to take climate related actions and improve their resiliency to climate change. There will be time for some questions.
8. Coaching for Residential Decarbonization, James Booth, Heat Smart Alliance and Kristin Dupre, Abode Energy
Transitioning homes to heat pumps is a major part of reducing emissions to reach our climate goals, presenting many challenges to homeowners.
35o Mass MetroWest
350 MetroNorth
Arlington Mothers Out Front
Climate Coalition of Somerville
Climate Reality Project Boston Metro Chapter
Concord CAN
Cool Winchester
Cooler Concord
Gas Leak Allies
Green Newton
Green Sanctuary, Winchester Unitarian Society
Heatsmart Alliance
Lexington Climate Action Network (LexCAN)
Lexington Green Network
Lexington High School Conservation Club
MCAN
North Shore Sustainability Network
MassEnergize
Reading Climate Advisory Committee
Sustainable Arlington
Sustainable Belmont
Sustainable Lexington Committee
Sustainable Wellesley
Sustainable Winchester
Winchester Climate Action Advisory Committee
Winchester Epiphany Creation Care
Winchester Farmers Market Community Hub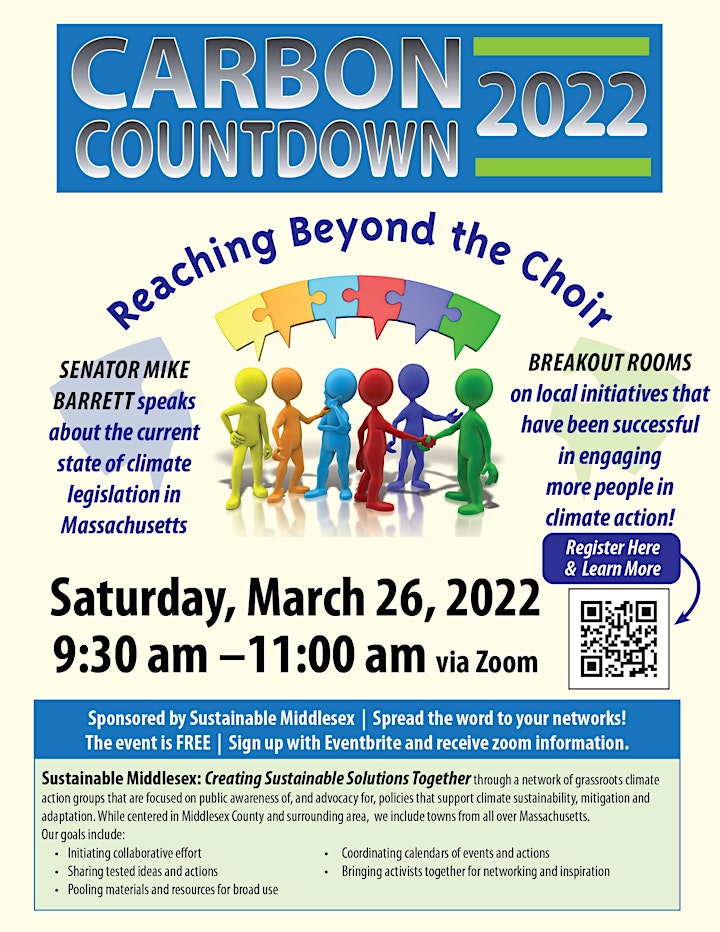 If you would like a pdf of the flyer with an active sign up link, please email sustainablemiddlesex@gmail.com.
The 2022 Sustainable Middlesex Event Team:
Alan Field
Brad Hubbard-Nelson
Charlie Moore
Larry Yu
Lisbeth Bornhofft
Dean Hickman
Mary Yardley
Marcia Gens
Tom Ehbrecht
Ricki Pappo
SUSTAINABLE MIDDLESEX
Creating Sustainable Solutions Together
Sustainable Middlesex is a network of grassroots climate action groups that are focused on public awareness of, and advocacy for, policies that support climate sustainability, mitigation and adaptation. While centered in Middlesex County and surrounding areas, we include towns from all over Massachusetts.
Our goals include:
• Initiating collaborative effort
• Sharing tested ideas and actions
• Coordinating calendars of events and actions
• Pooling materials and resources for broad use
• Bringing activists together for networking and inspiration