Event Information
Location
Black Rock Nature Center
9800 Black Rock Canyon Rd
Yucca Valley, CA 92284
Few destinations offer a landscape as unique as Joshua Tree National Park. Spend a day painting in beautiful Joshua Tree National Park.
About this event
Few destinations offer a landscape as unique as Joshua Tree National Park. Spend a day painting in beautiful Joshua Tree NP. In this one-day class, you will focus on observations, setting an intention for the day, and learning the process of acrylic landscape painting. Janis Commentz is known for her color-intense palette and loose brush strokes. The morning will begin with basic instruction on the process and introduction to materials. Topics will include laying out your palette, color mixing, how to observe the landscape and translate it into an image, tips to see patterns of lights and darks, and planning a successful composition. Participants will move outdoors to observe, sketch, and learn what to look for in a potential landscape. The afternoon will include a demonstration on starting your painting, blocking out your sketch on canvas and time needed to developing your painting. This class is for beginning to intermediate painters.
Download the course outline:  Capturing Joshua Tree Landscape with Acrylics Fall 2021
Hike Level: Easy (Fitness Levels)
If you are a member of JTNPA you will get a $10 discount off every Desert Institute class. If you are not a member you can become one here.
Please print and fill out the PARTICIPANT AGREEMENT.  You can bring the completed form to the class.
Cancellation Policy: If you need to cancel, notify us at least seven days prior to the start of the course and we will process your request minus a $25 cancellation fee. No refunds, transfers, or credits will be granted if cancellation occurs within the seven day period. Please note that we cannot make any exceptions to this refund policy for any reason, including but not limited to medical reasons, illness, travel delays, personal situations, emergencies, or weather. This program depends on registration for its funding. While inconvenient, please understand that this policy enables us to sustain our programs even with last minute cancellations.
This season of Desert Institute classes is made possible by the generous sponsorship of Visit 29 Palms. Check out Visit29.org to learn about all the great shops, restaurants, lodging and attractions in Twentynine Palms and start planning your visit.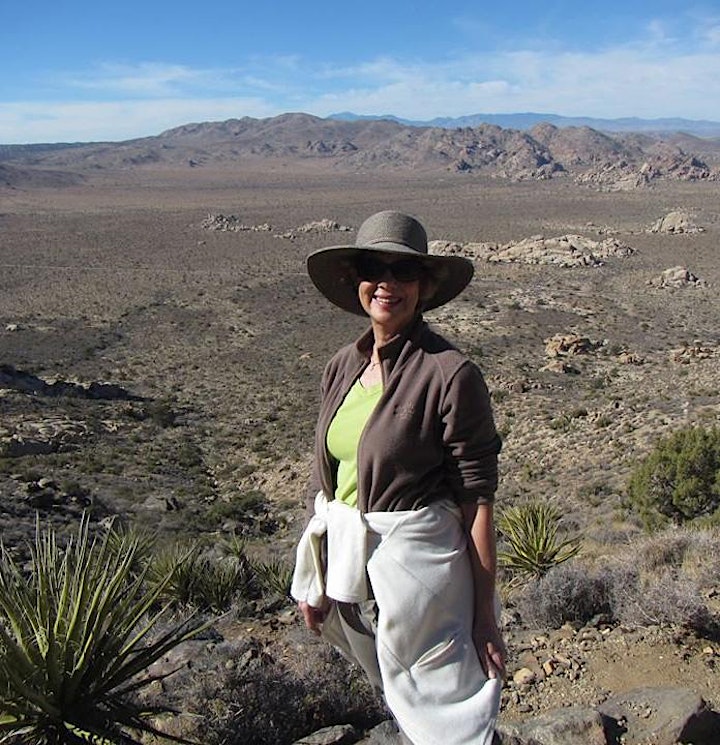 Janis Commentz is a painter living in the Mojave Desert. She has taught high school art, teaches classes at the 29 Palms Art Gallery and facilitated life drawing for almost a decade. She has a B.A. in art and British Literature from the University of Redlands and M.A. in Education from California State University at San Bernardino.
She exhibits in Southern California and has participated in the Hwy 62 Open Studio Art Tours, Joshua Tree National Park Juried Art Exposition, Joshua Tree National Park Spring Art Festival, Art Faire at California State University at San Bernardo and Art For Heaven's Sake, Redlands. In 2013, she helped create the "Pop Up" Art Gallery in Joshua Tree which evolved into Gallery 62. Commentz served as Gallery Director for Gallery 62 during 2016. She has been the featured artist at Gallery 62, Glass Outhouse Art Gallery in Twentynine Palms and the 29 Palms Art Gallery.
Date and time
Location
Black Rock Nature Center
9800 Black Rock Canyon Rd
Yucca Valley, CA 92284