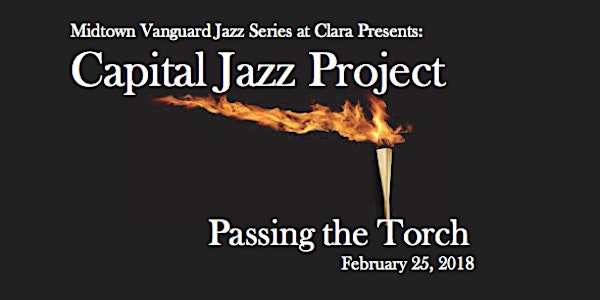 Capital Jazz Project Passing the Torch
When and where
Location
The Auditorium at CLARA 1425 24th Street SACRAMENTO, CALIFORNIA 95816
Description
A very special event, Capital Jazz Project Passing the Torch will feature the original members of CJP recreating their first concert, The Music of The Blue Note, and the new members in their very first performance as a band.

CJP has a long tradition of musical excellence. Founded in 1997 with the goal of creating an atmosphere of respect for jazz as a high level art form, the members of CJP have successfully produced many concerts and educational experiences for the Sacramento music community. Recently, the original members decided it was time to turn the organization over to Sacramento's talented crop of young musicians.

The new members have all been busy performers and educators in the international jazz scene playing with the likes of Christian McBride, Donald Brown, Jeff "Tain Watts," Ari Hoenig, Jeff Clayton, and leading jazz education programs at CSU-Stanislaus and UC Davis. They are committed to bringing the very best in jazz to the community and continuing the legacy of Capital Jazz Project.

Original CJP: Set 1

Joe Gilman - Piano
Kerry Kashiwagi - Bass
Rick Lotter - Drums
Mike McMullen - Sax
Tom Peron - Trumpet
Henry Robinett- Guitar
Phil Tulga - Trombone

New CJP: Set 2

Brenden Lowe - Piano
Jacam Manricks - Sax
Joe Mazzaferro - Trumpet
Tim Metz - Drums
Henry Robinett - Guitar
Matt Robinson - Bass
Levi Saelua - Sax
-------------------------------------
Reserved Tickets - Front 3 Rows - Limited (54) Seats Available
General Admission - Non-Reserved - General Floor Seats
STUDENT TICKETS - Back Rows - Limited (36) - MUST HAVE STUDENT ID TO PURCHASE A STUDENT TICKET. STUDENT TICKETS ARE RUSH TICKETS ONLY. NO ADVANCE SALES. STUDENT TICKETS GO ONSALE AT 5:00PM THE DAY OF THE SHOW AT: THE AUDITORIUM AT CLARA, 24TH STREET ENTRANCE.

Balcony - Limited (20) Seats - Reserved Seating
---------------------------------
Notes: Midtown Vanguard Jazz Series believes that this show will sell out through eventbrite. There will be no tickets available at the door after the event sells out online. No standing room only tickets available. No Dance Floor. This is a seated event. No Refunds.
Doors Open at 7pm
Show at 7:30pm
Beverage Sales at this Event Benefit Sac Prep Music Academy, a 501c3 Nonprofit Performing Arts Organization. SPMA's Mission: To support and advance access to lifelong learning opportunities in music arts education.
12 STUDENT VOLUNTEERS ( Must be 18 yrs of age) NEEDED TO USHER AT THIS SHOW. MUST BE FROM: ARC, CSUS, UC DAVIS. STUDENTS USHERS MUST APPLY TO VOLUNTEER. RESTRICTIONS APPLY.
http://sacprepmusic.com/midtown-vanguard
FOR MORE INFO about Student Volunteering