Description
With the increasing influence that Big Data exert on us, the issue of algorithmic discrimination arises more and more often.
Today, Artificial Intelligence is responsible for determining the results we get on Google, the ads we see on websites, the interest rate that is provided to us by banks and the characteristics of insurance we can get. It might seem as if algorithms that can solve such complex problems must have no shortcomings.
In fact, there is a widespread belief that software and algorithms that rely on data are objective. But software is not free from human influence. Algorithms are written and maintained by people, and machine learning algorithms adjust what they do based on people's behavior. As a result, researchers in computer science, ethics and law, are increasingly calling attention to the fact that algorithms can reinforce human prejudices.

The main questions this panel will be exploring are: What is algorithmic fairness and why is it important? Can we expect more from algorithms than we expect from people? And if so, what can be done now to address algorithmic discrimination?

These questions and much more will be discussed at the Canopy Social Impact Series: The Role of Innovation in Addressing Algorithmic Discrimination.

Join the discussion on Wednesday, June 28, from 6:00 PM to 9:30 PM at Microsoft NERD, 1 Memorial Drive, Cambridge, MA 02142.

Sponsored by Microsoft.
---
Moderator
Hiawatha Bray - Journalist, Boston Globe
Bray is a technology writer for the Business section. He has contributed to a number of newspapers and magazines including Wired, Fast Company and Black Enterprise. He received an Overseas Press Club award for his series on the Internet in Africa.
---

Panelists
Sara Cable, Director, Data Privacy & Security and Assistant Attorney General, Office of the Massachusetts Attorney General. Ms. Cable investigates and prosecutes violations of the Massachusetts Consumer Protection Act and the Massachusetts data breach notification laws and data security regulations. She has reviewed thousands of data breach notices submitted under Massachusetts law, regularly reviews and investigates data security incidents, works with businesses to improve their data security and breach reporting practices, and is a frequent presenter on Massachusetts data security/breach laws. She is also a Certified Information Privacy Professional (CIPP/US). Previously, Ms. Cable was a litigation associate at Bingham McCutchen LLP, where she litigated commercial disputes featuring unfair trade practice, antitrust, and intellectual property claims.
Kade Crockford, Director, Technology for Liberty Program, American Civil Liberties Union of Massachusetts (ACLU) where she serves as the Director of the Technology for Liberty Program of the ACLU of Massachusetts. Kade works to protect and expand the First and Fourth Amendment rights and civil liberties in the digital 21st century focusing on how systems of surveillance and control impact not just for the society in general but their primary targets - people of color, Muslims, immigrants, and dissidents.
Caitriona Fitzgerald, Chief Technology Officer and EPIC Policy Director. In her capacity as EPIC Policy Director she provides expertise to shape strong privacy and open government laws at both the state and federal level. Her work as CTO focuses on improving EPIC's web presence. Based in Somerville, Massachusetts, Caitriona is building a Boston-area presence for EPIC. She recently co-authored The Secret Ballot at Risk: Recommendations for Protecting Democracy, a report highlighting the right to a secret ballot and how Internet voting threatens voter privacy.

Winston Henderson, Co-Founder of Sankofa, Inc., an early stage venture that sits at the intersection of culture and technology, developing data-driven products that better reach, understand, and serve the diverse and multicultural population. Winston frequently presents on the value of diverse and inclusive teams in developing algorithms and data science. Learn more: http://pratt.duke.edu/about/news/mining-data-all-its-worth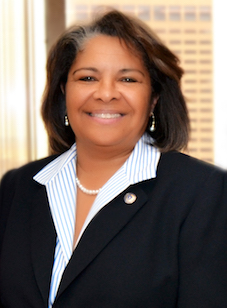 Jamie R. Williamson, Chairwoman, MA Commission Against Discrimination (MCAD). Appointed in 2014 as the Chair by Governor Deval L. Patrick, Chairwoman Williamson has served as a Commissioner since 2010 and sits in the Springfield office. Prior to joining the MCAD, she was Executive Director of the Massachusetts Fair Housing Center, a private non‐profit fair housing organization serving central and western Massachusetts. In 2005, Chairwoman Williamson was appointed by the Supreme Judicial Court of Massachusetts to serve on the Access to Justice Commission. In 1995, she became the first African American woman to serve on the Pittsfield City Council, and the first African‐American to serve at‐large. She graduated from Smith College in Northampton, MA with a Bachelor's degree in Government. Chairwoman Williamson has lectured and conducted seminars on fair housing and civil rights enforcement to public and private housing organizations, various associations in the housing industry, service organizations, real estate professionals, attorneys, and government agencies throughout New England and as a guest lecturer at UMass Amherst and Smith College.
Brian Olson has been a professional software engineer on everything from tiny embedded computers to server farms, at tiny startups to giants of tech. He has been working on Gerrymandering for a number of years and focusing on using algorithms to be perfectly fair and impartial. His passion project for over ten years has been to maintain open source software around redistricting and elections. This work has been cited in the Washington Post, journaled articles, and presented at TEDx Cambridge. Learn more: http://bdistricting.com/
---

Agenda
6:00 - Doors open
6:30 - An overview of the Canopy mission & community services provided
6:35 - Presentation
7:30 - Moderated group discussion begins
8:30 - Panel Q&A begins
9:00 - EPIC.org is introduced and a 30-minute networking session begins
9:30 - Our second Canopy Social Impact Series event concludes


---
Street parking, Microsoft NERD is on Red Line Kendall Sq Station.
---
Every quarter, Canopy will be hosting a vibrant discussion that focuses on the most pressing local, national and global issues facing us today. By bringing together local, national and internationally-renowned experts who are working towards solutions to the same problems, in distinctly different realms--such as government, academia and the tech sector--we can galvanize their efforts and amplify their positive impact. We also believe that by sparking these untapped collaborations and this cross-pollination of ideas, we can collectively tackle our most complex challenges more efficiently and more effectively.
Creating diverse panels that are open to the public will also serve as a catalyst for reaching equally diverse audiences. Canopy's outreach efforts extend into the public schools, churches, technology companies, nonprofits, startups, coffee shops, college campuses and community centers--and are further enhanced by taking our message directly to the streets in grassroots fashion.
What is also unique is the addition of a "Canopy Featured Nonprofit" at every event. At the end of the moderated panel discussion, we will introduce our featured nonprofit, who is hitting the respective challenge head on. Attendees are then encouraged to visit that nonprofit's information table to sign petitions and volunteer forms, receive informative pamphlets and purchase merchandise.
The Canopy Social Impact Event Series model strives to:
(1) Connect people and cross-pollinate ideas
(2) Educate attendees and panelists
(3) Provide opportunities to get involved by supporting a local nonprofit either financially or through direct involvement.
So in three words, the objective of the Canopy Social Impact Event series is to:
Cross-pollinate. Educate. Activate.

All funds raised through individual event donations are split 50/50 with the Canopy Featured Nonprofit. This is intended to empower their work and to keep the event series sustainable.
We encourage you to make a contribution of any size to help us continue this mission.

WWW.CANOPY.CITY

This Canopy Social Impact Series event theme is:
The Role of Innovation in Addressing Algorithmic Discrimination

The Canopy Featured Nonprofit is:
Electronic Privacy Information Center (epic.org)

---
Special thanks to our Sponsor

Microsoft New England (MSNE) is a major center for technical innovation and research. Located in the heart of Cambridge, Massachusetts, the MSNE campus includes two buildings—One Memorial Drive and the recently renovated One Cambridge Center. At the core of MSNE is the Microsoft New England Research & Development Center (NERD). NERD is a world-renowned research and software development center, and is home to teams working on critical products and services like Microsoft Office 365 and Microsoft SQL. NERD also serves as a center of gravity for the local tech community, having hosted more than 1,000 events and welcomed more than 100,000 visitors since opening in 2008.