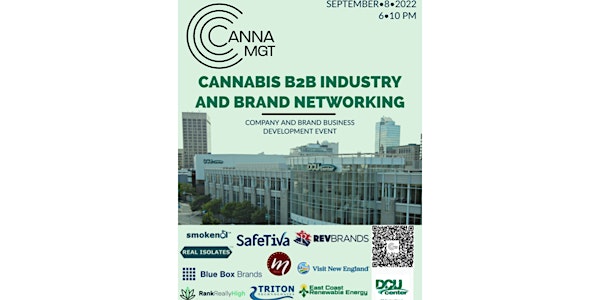 Cannabis B2B Industry and Brand Networking at The DCU Center in Worcester
Join us for a special event for Cannabis B2B Industry and Brand Networking September 8th, 2022, from 6-10 PM, The DCU Center at 50 Foster St
When and where
Location
DCU Center 50 Foster Street Worcester, MA 01604
About this event
Cannabis B2B Industry and Brand Networking Event at The DCU Center in Worcester
Join us for a special event for Cannabis B2B Industry and Brand Networking on Thursday September 8th, 2022, from 6-10 PM, at The DCU Center at 50 Foster Street Worcester, MA
Professional Cannabis B2B networking with Highlighted speakers, elevated networking, and light appetizers. Event to empower local business owners in the Cannabis Industry. Network with purpose. Empower and support local companies and their efforts in the Cannabis community to make a difference! Meet likeminded professionals making an impact, reducing stigma, and raising awareness within the community.
Supporting Efforts: Canna Management LLC, Massachusetts Cannabis Company, Visit New England, Triton Technologies, Revolutionary Clinics, Rev Brands, Blue Box Brands, Smokenol, Real Isolates, East Coast Renewable Energy, SafeTiva, Rank Really High, Heritage Hemp, Patrick Rogers Photography, and more to be announced.
Thank you for empowering, encouraging, and impacting the Cannabis Industry. Tickets should be preordered; price will increase 24 hours before event. Save processing fees by purchasing tickets directly at http://Cannamgt.com Also available at Eventbrite. Tickets are nonrefundable.
Meet with Multiple Cannabis Dispensary Owners, Cultivators, Manufacturing Companies, Entrepreneurs, Investors, Builders, Architects, Engineers, Energy Engineers, HR teams, Real Estate Professionals, Cannabis Professionals within the industry. Marketing Experts, Security Companies, Banking Professionals, Doctors, Laboratory Professionals, State Advocates, and More! Name tags will be provided and business cards are encouraged.
Event Sponsorship Opportunities Available! Build your brand while supporting efforts within the community!
Plant your future at CannaMgt.com events and watch your Company grow!
The dress code at our events is what we refer to as "THC Casual."
We ask that members and guests dress appropriately while enjoying our event. THC Casual - which includes dress denim along with traditional "business casual" attire - represents a style of clothing that is less formal than traditional business wear, but is still intended to give a professional and businesslike impression look. Ripped or torn jeans or clothing is not appropriate.