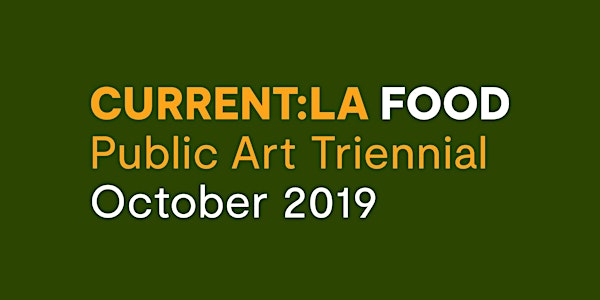 CANCELLED: Learning from LA
When and where
Location
The HUB @ LA State Historic Park 1245 North Spring Street Los Angeles, CA 90012
Description
ABOUT THE PROGRAM
Independent curator and CURRENT curatorial advisor Diana Nawi moderates Learning from LA, a panel discussion featuring CURRENT artists and programmers. Each artist, whether LA based or having never visited LA before, began their project with an idea and perhaps even a hypothesis about food, art, community, and the city itself. These artists speak about their experiences learning about and from LA. This conversation focuses on the artists' research into and previous engagement with the city and the ways in which LA revealed itself to them over the course of their project. How did these discoveries inform and challenge their projects as they progressed? Each artist discusses their ideas and expectations, the surprises they encountered, and the lessons they learned. Capacity is limited; RSVP preferred, space given on a first-come, first-served basis.
---
PARKING
Parking is located near the park on N Spring St. Please consider taking public transit, carpooling, or ridesharing when possible.
RSVP
RSVP is preferred. Please present a digital or printed ticket upon arrival.
ADA
All parks are ADA accessible. Should you require additional information regarding ADA access or special consideration please contact Dyson & Womack at info@dysonwomack.com.
FYI
All artworks are outside! Please dress appropriately, bring shade or sunscreen, a bottle of water, and comfortable shoes.
The CURRENT:LA Triennial HUB is located at the LA State Historic Park, 1245 N. Spring Street, LA 90012. Information about all triennial sites can be found there or at the CURRENT:LA FOOD website currentla.org.
For group booking please contact currentla@lacity.org.