(Cancelled) Just Ask! MA | AAUW Work Smart Salary Negotiation Workshop
Description
This workshop has been cancelled.
Just Ask! Massachusetts invites you to attend an AAUW Work Smart salary negotiation workshop in Fall River, MA. This FREE two-hour salary negotiation workshop will empower you to confidently and successfully negotiate your salary and benefits packages. More, you'll gain confidence in your negotiation style through facilitated discussion and role-playing and learn
How to identify and articulate your personal value
How to develop an arsenal of persuasive responses and other strategies to use when negotiating
How to conduct objective market research to benchmark a target salary and benefits
About the wage gap, including its long-term consequences
You will also have an opportunity to practice your negotiation.
For questions regarding this initiative, please contact JustAskMA@tre.state.ma.us.
Check-in will begin 30 minutes before the workshop.
About the Gender Pay Gap:
On average, women in Massachusetts make 82 cents for every dollar earned by a male counterpart. This number is much worse for women of color, with Asian women making 80 cents, Native women making 63 cents, Black women making 61 cents, and Latina women making 50 cents.
Nationally, the average wage gap is 80 cents on the dollar, so women in Massachusetts fare slightly better, but this is not good enough. The wage gap is also further exacerbated by other facets of identity, like age, education, motherhood, sexual orientation, gender identity, occupational segregation, and disability.
A quick introduction to the MA Equal Pay Act:
August 2016 marked the signing of historic equal pay legislation, giving Massachusetts one of the most expansive pay equity laws in the country. As of July 2018, employers in Massachusetts are no longer allowed to ask employees about salary history, the first ban of its kind in the United States. The new law simultaneously promotes salary transparency, incentivizes internal audits for wage gaps, and requires equal pay for comparable work. The legislation passed in Massachusetts, which has been in the pipeline for almost 20 years, has become a model nationwide.
Visit www.EqualPayMA.com to learn more about the wage gap.
___________________________________________________
Just Ask! Massachusetts Salary Negotiation Workshops is a project spearheaded by the Office of Economic Empowerment in collaboration with the American Association of University Women (AAUW), the Massachusetts Community Colleges Executive Offices, and the Massachusetts Commission on the Status of Women. Workshops are held at Community Colleges across Massachusetts and taught by facilitators from the Massachusetts Commission on the Status of Women.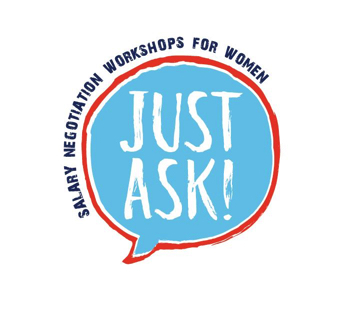 MA Office of Economic Empowerment (OEE)
The Office of Economic Empowerment (OEE) is a department within the Office of the Treasurer and Receiver General of Massachusetts tasked with supporting, advocating, and facilitating policies that empower all Massachusetts residents. OEE programs serve women, families, high school students, veterans, and seniors. OEE priorities include closing the wage gap, increasing access to financial education, improving college affordability, and investing in STEM careers and education.

By submitting your email address, you agree to receive updates about news, programs, and special events from AAUW and our event partners.