About this Event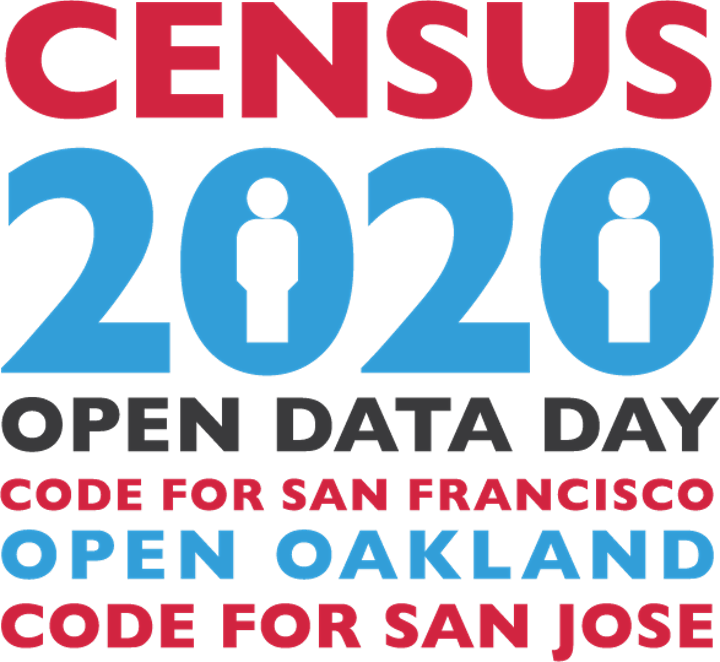 THIS EVENT HAS BEEN CANCELLED. All paid tickets have been refunded.
Please email us at hello@codeforsanfrancisco.org if you paid for a ticket and didn't receive a refund notification email.
We are still planning to release the content through alternative channels, so stay tuned for updates coming out soon!
_________
Every year, our civic tech community comes together to celebrate the power of open data for civic good on Open Data Day. But every ten years, we get the chance to celebrate something extra special: the U.S. Census. The Census is the "mother of all open data": a powerful force in our civic life, and the heart of many civic data projects. But it can only happen through our collective participation.
On March 7th, the Code for America Brigades of the Bay Area - Code for San Francisco, Open Oakland, and Code for San Jose - will host a full day of open data talks, workshops, and project sessions. We aim to inspire active engagement with Census efforts, showcase the potential of Census data for civic good, provide learning opportunities, and spark new civic tech project ideas. We invite all to participate, regardless of background, identity, skills, and interests - because when it comes to the Census, all of us count.
On Saturday you can:
Listen to Robert Clinton, SF's project coordinator for the 2020 Census, and Amy Kisch, a founder of the ART+ACTION civic engagement campaign, discuss San Francisco's Census plans
Envision the future of SF open data through a workshop with Jason Lally, SF's Chief Data Officer
Learn how to make sense of Census data in a beginner-friendly workshop with demographer Paul Chung (U.C. Berkeley/Facebook)
Hone your data science skills using the Observable data visualization tool
Hear the story of Census projects built at Code for San Jose and Open Oakland, and test out the tools for yourself
AND MORE!
_________________________
Agenda:
8:30 - 9 AM: Breakfast
9 - 10:30 AM: Morning Talks
10:30 AM - 12 PM: Open Data Vision Workshop + Project Demos
12 - 12:30 PM: Lunch
12:30 - 2:30 PM: Census Data Workshops
2:30 - 4:30 PM: R Workshop & Community Activities
4:30 PM: Wrap-Up and Happy Hour
_________________________
FAQS:
Breakfast, lunch, and coffee will be provided free of charge for event participants.
Parking is limited. We advise using public transit or rideshare if possible.
Laptops are not required. However, please bring your own computer if you plan to participate in any of the data workshops.
The Code for America office is accessible via an elevator, and has no steps inside.
Unfortunately we cannot welcome animals (except registered service animals) or children, due to liability concerns.