Description

Registration to pitch for Camden Catalyst is officially closed.
All applicants please note that the date has been moved from 9/16/17 to 10/14/17.
Camden Catalyst is a 2 Part event.
10/14/17 - Camden Catalyst Pitch Competition
This is the official PITCH Competition day where startups will pitch in 3 Rounds in order to qualify for the Final Round. All Applicants are required to attend this date. You are welcome to bring your friends/family to this event as it is a FREE event.
10/20/17 - Final Round + Award Ceremony
This is the Final Round + Award Ceremony. The final 4 startups will pitch on this date and the winner will be decided on LIVE TV. This is an exclusive invitation only event with city officials, investors, CEO of fortune 500 companies in Camden, and innovators on either side of the bridge. Ticket to this event is $125. We want to give the winning startup $25,000 prize and also give them the press and connections they need in order to succeed in Camden.
About the Competition
Join us for an entire day of Pitching Competition in Camden NJ. On October 14, 2017, Waterfront Ventures is hosting Camden Catalyst, a Startup Pitch Competition with a prize pool of $25,000. The competition is open to ALL startups and students in Camden and all neighboring areas.
Coming up with an idea for your startup is easy, building a team to get things going is hard, finding initial capital to kickstart your idea is often challenging. That's why we created Camden Catalyst - a Pitch Competition with the goal of helping students and young startups succeed.
For more information, visit our website.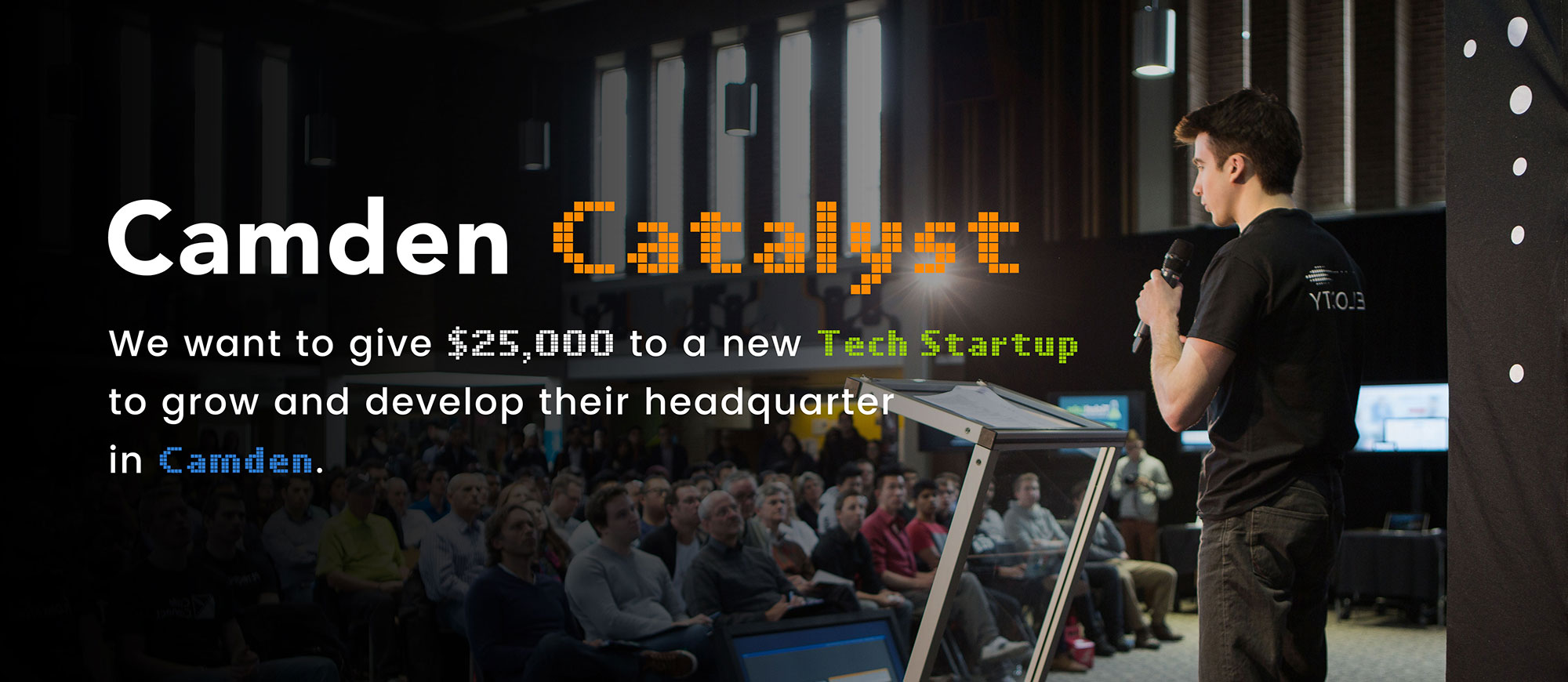 Who are we?
We're a group of innovators who want to make Camden a better place for motivated students and entrepreneurs to thrive and succeed. If we can help create successful companies in Camden, more jobs and opportunities will open up for students and residents.

It's our dream to see Camden transform into a vibrant city full of opportunities for startups, students, and residents. We plan to bring opportunities into Camden by providing resources and funding for startups to grow inside the city and incentives for startups on the outside to join.
On March 24th at 2:00PM, we decided to create a Pitch Competition with a prize pool of $25,000 to help stir the Startup community. Our goal is to help startups get off the ground and establish a headquarter in Camden, where they will grow and provide internship, jobs, and opportunities in the near future.
Requirements:
1. Must be a NEW idea (cannot be an existing startup)

2. Must be a Tech Startup
3. Winning Startup must open open their headquarter in Camden
4. Startup must hire their first employee from Camden
5. Startup's workforce must be at least 50% Camden city resident/students.
Schedule
7/14/17 - Applications Due at 5:00PM US Eastern time (DEADLINE EXTENDED)
7/21/17 - Pitch Competition Tryouts / Feedback
8/17/17 - Preliminary Pitch Round
10/14/17 - Camden Catalyst Pitch Competition
10/20/17 - Final Round + Award Ceremony
In order to Apply, you must first grab a Free Ticket AND submit their application at http://camdencatalyst.com. Spot is limited to the 1st 100 that applies. All Applicants will need to past a screening call.