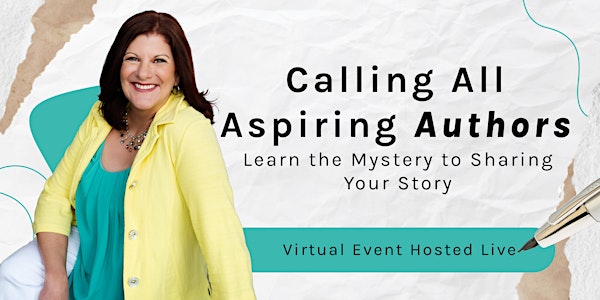 Calling All Aspiring Writers
Want to know the mystery of getting published?
Date and time
Thursday, August 10 · 5 - 8pm PDT
About this event
Do you know you have a story in you, but you're just not sure where to start?
Are you struggling writing your story?
Or maybe you have your story written, but you're not sure how to get it published?
Either way, we can help.
In this master class you'll learn the art of telling your story. Whether you're a business owner looking to build deeper connections with your clients, use your story to resonate with and attract leads, or you're someone that knows you have a story that needs to be out in the world, this is the workshop for you.
With all the strategies for publishing and the different platforms available, knowing what is the right strategy and platform for you can feel overwhelming and confusing.
At Lemonade Legends we've helped hundreds of clients share their story, from magazine features, to anthologies, to publishing your own book, we've done it all and know all the secrets and hidden passageways.
We know the best way to formulate your story to leverage it for your business and we also know the best way share heart-felt and personal stories.
In this master class we'll cover the best way to share YOUR story as well as your different publishing options and which would be the best avenue for you. Finally, we'll cover how to shine a light on your story to ensure everyone that needs it can find it.
So if you have a story in you and the only thing standing in your way is how to get started, then this master class is for you!
Can't wait to see you there and hear your story!!
Michelle
CEO/Founder of Lemonade Legends
About the organizer
The creation of Lemonade Legend is a direct result of the success of The Lemonade Stand book, the excitement and community growth around the concept of the book, and the requests for more opportunities from women to share their stories. During the journey of compiling The Lemonade Stand, I learned so much, made such amazing connections, and found such purpose in my mission. The mission being to create Lemonade Legend as a platform to give a voice to people who otherwise have none, don't know how to express it or don't know where to share it. Women who are in situations of abuse, trauma, controlling spouses, or feeling helpless with a devastating diagnosis, commonly feel they don't have a voice, or a say in the matter. They are dependent on others to get them through the debilitating events.
Lemonade Legend is about you and your story, and what you want to do with it. Even a story that is written and tucked away in your private spot is an empowering process. But, sharing it to the world and showing up brave, courageous and real is an extraordinary place to reside and rejoice in who you are, and all that you offer.
I have expanded Lemonade Legend to include full publishing services and our newest platform Lemonade Legend Publicity Playhouse. This is an extraordinary 3-day event held live in Dallas, TX. Design to provide an entire playbook of TV interviews, sizzle reels, photography, press releases, an exclusive magazine, content to post for the year, and the most fun networking opportunity ever!