Location
Crystal Gardens Banquet Center
5768 East Grand River Avenue
Howell, MI 48843
Refund policy
Contact the organizer to request a refund.
Eventbrite's fee is nonrefundable.
Full breakfast buffet, speakers and mix with your fellow Caerusnetters! This event sold out last year. REGISTER ASAP! Deadline: July 11th
About this event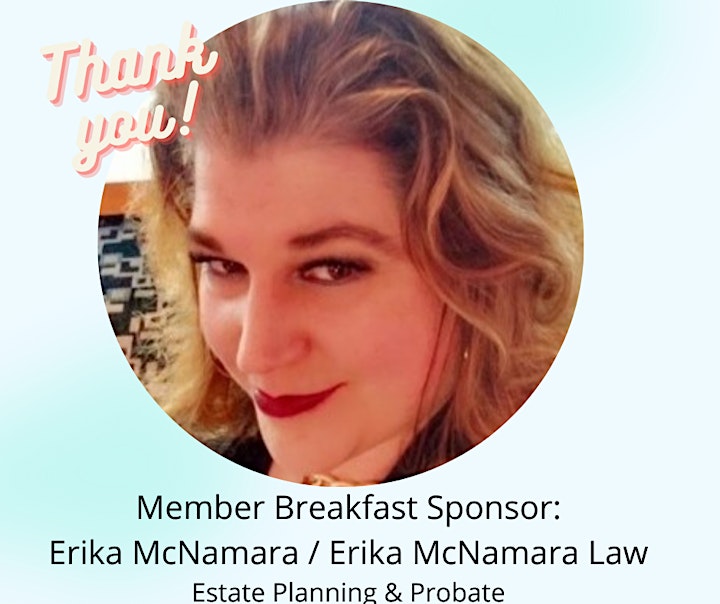 This event is exclusively for Caerusnet Members, Facilitators and their guests! Enjoy a full breakfast buffet and networking at its finest. Must register to attend - no exceptions. Register soon to ensure your attendance - as seating is limited due to capacity restrictions.
This is an exceptional opportunity to be with your Caerusnet team Members IN PERSON! You will also expand your network by meeting other MICHIGAN Caerusnet Members and be entertained by some awesome guest presenters, including Heidi Kussurelis, president of the Heidi Kussurelis Insurance Agency in Ann Arbor, MI.
Entertainment provided by Caerusnetter, DJ Shawn from BASH Entertainment!
We look forward to a great time with you!
Registrations are a must. Limited seating. Act now!..
As of July 11th, here's a PARTIAL LIST of who you will be in the company of:
Jake Rux Agency Owner Goosehead Insurance
Christina Kafkakis Photographer Christina Maria Photo
Steven Burkhalter Financial Advisor Raymond James
John Manwiller Financial Advisor Edward Jones
Hannah Manwiller Owner Pipsqueak Boutique
Denise Roberts owner Denise Roberts
Jessica Dulin President Michigan Toner And Computer Supply, Inc
Matt Dulin General Manager Michigan Computer Supplies
Mary Beth Potrykus CEO Owner Mama Bear Productions
Vera Davis Owner Vera Davis Photography
Kim Lenga Owner Emerge Fitness
Robert Pierce Owner This Guy Cleans House LLC
Joseph Tiberi Owner The Tiberi Agency A2
Daniel Shemke Owner Daniel R Shemke PC
Erika McNamara Owner Erika McNamara, Esq. - BREAKFAST SPONSOR
Douglas Moffat Business Owner www.themoffatgroup.us
Patrick Collins Owner Ypsilanti Tech Works
Selena Sternicki Sales Coordinator Trusted Heating and Cooling Solutions, Inc.
Valerie Kearns Senior Sales Consultant Paychex
April Dertian Development Director Habitat for Humanity of Livingston County
Jennifer Schulte President Trusted Heating and Cooling Solutions, Inc.
Steve Bebber President Health Pro
Pamela Bebber Aflac agent Aflac
Jeff Graunke jgraunke@tbaygroup.com Thunder Bay Group
Kimberly Haddad Customer Service Coordinator The Brighton Garage
Scott Shay Real Estate Expert Berkshire Hathaway-MI Real Estate
LeeAnn McKeon Mortgage Sales Manager Premier Bank
Michael Mayernik Co-Owner / Chief Financial Officer Mitten Junk Removal
Austin Williams Co-Owner / Chief Marketing Officer Mitten Junk Removal
Clark Bradley Owner Cowork Brighton
Jason Tait Estimator Manager Aaron Babycz Painting Company
Amy Knight Residential Realtor Rademacher Team - Keller Williams Professionals
Scott Brown Owner/Manager Fowling Warehouse Ypsi-Ann Arbor
Trisha Turner Landscape Designer Turner Design Group
Wendy Caverly President Caerusnet Connections
Jen McClure Sales Director Mary Kay Cosmetics
Stacey Frisinger Clinical Director Choice senior home care
Kevin Suboski Professional EOS Implemeter Suboski and Company
Charlotte Doran Legal Assistant McNamara Law
Paul Schmidt Owner UnoDeuce Multimedia
Sierra Wilnus Legal Assistant McNamara Law
Jenni Eifler Area Director Stroll Hidden Lake
Rusty Korhonen Commercial Producer Heidi Kussurelis Agency, Inc.
J. Baron Lesperance Attorney Confidant Consult, PLLC
Joy Dettling Healing & Growth Facilitator Upswing Wellness
Mike Ooink Major Account Manager Applied Imaging
Michael Hahn Ow Contracting -Hahn -Ner
James Linenger Financial Professional Integrity Investment Planning Group
Joshua Rockensuess College worker Hahn Contracting
Jeff TenBroeck Owner J10 Marketing
Mary Beth Potrykus CEO and Owner Mama Bear Productions
Carmo Ribeiro Dir of Operations Seniors Helping Seniors
Brian Ashley COO-Founder Great Lakes Funding Center, LLC
michelle cousineau owner Engrave It All USA
Vilija Idzelis-wlosinski Community Liaison Angela Hospice
Michelle Smith Arbonne independent consultant Arbonne
Gaylotta Murray Founder Your Best Life Media
Tom Pelon Owner Smartlink Solutions
Trisia Gowing Community relations CGCWATER
Angie Leaser Financial ADvisor Edward Jones
Heidi Kussurelis Insurance Agency Owner Heidi Kussurelis Insurance
Jason Tracey Founder Roar Consulting Inc
Gracie Tracey Consultant Roar Consulting
Jonathan Hayward Lead Insurance Agent Comparion Insurance Agency
Elise Clements Community Relations Specialist CGC Water Treatment
Aubrey Rose Interiors Specialist NexTech Business Interiors
David Donovan Sales Rep Allstar Alarm LLC
Katie Blacker Internet Marketing Director Michigan SEO Group
Minesh Baxi President Minesh Baxi
Mooskaan Baxi Associate Minesh Baxi & Co.
Brian Truskowski Coach. Bodyworker. Teacher Illuminate
Traci Novar Workplace Consultant Workplace Consultant
Dawn Clark Financial Representative Modern Woodmen Fraternal Finan
Roger Burnett Promise Maker Social Good Promotions
Malinda Barr Owner Ralya House Beeswax Essentials
Kathy King Owner Kathy King Strategies, LLC (Success Coaching)
Linda Suter Owner / Manager Big Frog Custom T-Shirts of Brighton
Jessica Grima Executive Director Midcourse Correction
Jackie Pickell Program Director Midcourse Correction
Deborah Moerland Owner FirstLight Home Care of Brighton
Nancy Coloma VP J J Jinkleheimer & Co.
DAWN SAMUELS PRESIDENT BY DAWN'S EARLY LIGHT HOME CARE AND TRANSPORT.
Dan Platt Vice President Focused Feedback
Breanna Thomas Virtual Assistant Everbreeze, LLC
Trae Bohlen Photographer Photography By Trae
Ginny Krauss Realtor Real Estate One
Jim Bertrand Publisher Stroll Hidden & Island Lake
Chuck Dodge Coach Double Win Enterprises /Legal Shield
Robert Palmer New Consciousness Coach The Raven, LLC (The Raven Institute)
AGENDA FOR THE CAERUSNET BREAKFAST:
8:00-8:30 Arrive during this time window. Enjoy beverages (coffee, water, etc.), network, pick your seating, etc.
8:30-10:00 The Breakfast buffet opens. Enjoy the wonderful food prepared by the Crystal Gardens!
9:00-9:45 Speaker Presentations:
BREAKFAST SPONSOR, Erika McNamara (estate planning attorney and Caerusnet member for the past decade) will welcome everyone to the breakfast and say a few words about her practice and her personal Caerusnet journey.
Kim Lenga, owner of Emerge Fitness, will get your blood pumping to increase your energy and help burn off some of the calories we'll be consuming at the breakfast!
Steven Zyskowski, Caerusnet founder & facilitator, talks about the world we currently live in and why solid business relationships are more important now than they ever have been.
Minesh Baxi, who currently coaches over 100 millionaires, will challenge you to go-for-it and live life to the fullest potential. Here's a short coaching video of Minesh providing some insight on the traditional member minute / 60 second commercial: https://youtu.be/E1EjhhmEH_4 In addition, Minesh is a Grant Cardone franchisee and he offers you a complimentary download of Cardone's The Millionaire Booklet download here: https://mineshbaxi.simplero.com/purchase/148364-Grant-Cardone-Millionaire-Booklet/freebie/1dc7d9b5d4297aaa Finally, Minesh wants every solopreneur to be making at least 100K per year! If you're not there yet, Minesh will have 20 complimentary copies of his book, "Your Way to $100K", with him at the breakfast to give away. Message us ahead of time if you'd like a copy of this book reserved for you ahead of time.
Denise Roberts, Sales Partners Troy, and Playing-To-Win Caerusnet POD facilitator, will speak talk about the first Caerusnet POD, how the first graduates benefited and what they learned, and the next Caerusnet POD, which launches mid-September
Heidi Kussurelis, owner of the Heidi Kussurelis Insurance Agency is the keynote and final speaker at the breakfast. Heidi built her successful Ann Arbor insurance agency literally from scratch. In the highly competitive insurance industry, find out why productive networking and relationship building was, and still is, critical to the agency's success today. Heidi will share some tips she's learned along the way we can all benefit from.
9:45-11:00 Attendee Introductions / Event Ends