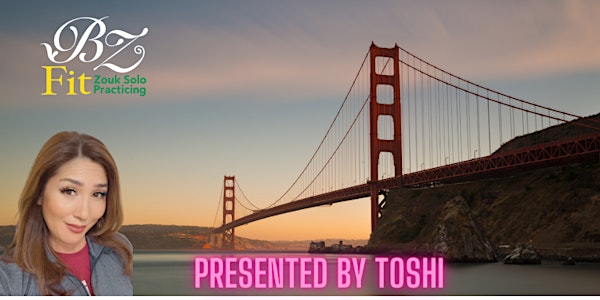 Multiple dates
BZ FIT Practical Training
Before Zouk BZ Practical Training
By Zouk Nippon United Project
Date and time
April 23 · 4pm - June 11 · 5pm PDT
Refund Policy
Contact the organizer to request a refund.
Eventbrite's fee is nonrefundable.
About this event
Welcome to the world of Zouk! You can start learning your first baby steps and moves before taking group Zouk partnering lessons. Check it out! This program was previously offered only online, but now you can also choose to participate in person. 
Toshie Fujiwara, with 35 years of experience in dance and fitness instruction, will utilize her skills and teaching ability to offer this program to all of you.
This is a recommended class for the following types of people:
The "BZ Fit Challenge" is a program for those who want to take a serious (lol) approach. We incorporate aerobics theory and provide a safe and effective exercise program that is also recommended for busy people.
-Those who want to learn the first step with Toshi before jumping into the world of Brazilian Zouk.
-Those who want to meet practice partners they get along with.
-Those who want to try a new dance and feel like they could become 20 years younger in body and mind.
-Those who want to get rid of their lack of exercise.
-Those who want to relieve stress.
-Those who are already dancing Zouk, but want to go back to basics and try BZ Fit.
Program :
Goal: BZ = Before Zouk! This program is designed to be a gateway to the world of Brazilian Zouk, making it accessible and enjoyable for everyone. We also introduce solo practice methods that are suitable for busy individuals (pronounced BZ).
Day 1: Breathing and body positioning, foundation, and Toshi's Magic 1.
Day 2: Basic rhythm and steps (1), Boom Bom Tic, and musicality.
Day 3: Basic steps (2), distance 4, and Wi-Fi.
Day 4: Lateral step, simple turn, and safe head movement practice.
The program consists of four one-hour sessions, totaling four hours of instruction. There is a one-week break between each session for participants to practice and improve before the next session. The program runs for one month and includes approximately 10 hours of training, including four hours of self-practice outside of the sessions with video assessment and feedback time.
Participants who complete the program will receive a certificate of completion.
Price:
The participation fee for this program is as follows:
$280 per person for total program, (other three might join)
$225 per person if two people attending together, (other two ppl might join)
and $200 per person if signing up with a group of four.
When/ Session Schedule
The schedule for sessions will be agreed upon by the instructor and the student/students at the beginning. In the event that a session needs to be cancelled for any reason, the student can catch up by utilizing the online archive that is available to private groups for up to two weeks.
If a student wishes to have a private lesson, there will be an additional charge of $95 per hour.
Refunds for payments are generally not possible, but transfers to another person are allowed (with a fee of $20).
Who is Toshi?
Instructor Toshie Fujiwara Profile:
In her 20s, she traveled between Japan and the United States and was involved in dance and fitness instruction and instructor education as a pioneer in the fitness industry. At the age of 30, she moved to the United States and engaged in salsa dance performance and instruction for 10 years while running a wellness business. At the age of 43, she gave birth to her daughter and continued to teach exercise classes for children and mothers while encountering Brazilian Zouk in 2017. Currently, she uses her 35 years of teaching skills to guide the practice of the magnificence of Zouk safely and effectively through her original program, BZ Fit.
In 2021, she launched Zouk Nippon United and provides information and promotions for Japanese living overseas.
Frequently asked questions
What should I do if there are days when I have to be absent due to scheduling conflicts?
I am interested in Brazilian Zouk, but I am not good at exercising and have no dance experience. Can
Is the class only four sessions?